Why You Should Use Modern House Plans to Build Your Dream Home?
Besides the unique aesthetics of modern home, there are many other reasons to choose design plans with a contemporary edge. Some of these reasons include:
Stunning good looks and design features that meet your needs. Modern house floor plans are often innovative and utilize new methods that make the home "smarter." In addition, these house plans are usually very visually appealing, so you will love coming home to your modern home.

Versatility for homes that are large or small. Small modern house plans under 1000 sq/ft are available, so you can get the trend-savvy look while still fitting your lot size. You can also find narrow lot modern home plans that fit within the parameters of your land.

Standout details that make the home special to buyers. You love your modern home design, and so will others. You and your guests will enjoy spending time in an open floor plan house. Also, minimalist design features will add value to your home.

Added beauty and an increase in the resell value of the home. It's always important to think about reselling your home because, at some point, you may want to. Choose a home plan that is not just appealing to you, but also appeals to a wide range of buyers. You need a plan that is flexible for the future expand and stylish enough to sell for a higher amount.
In a variety of styles and types of homes and residences, Truoba offers a large selection of modern house design plans with the best-suited configurations that are scalable and/or adaptable. These home designs provide suitable designer modern home floor plans which can be modified to meet the tastes and preferences of our clients.
Truobas' modern house plans and the relevant floor plans are based on the principle of frugality, however, in terms of its architectural beauty and exquisite layouts, it offers a look that is as affluent and enriching as that of a lavish, extravagantly done up residential spaces.
Our clientele and the team Truoba appreciate and abide by the tenet that being frugal is prudent.
Truoba's modern home plans are created based on our understanding of your unique design preferences, and as a result, they are brimming with stunning core architectural features and floor plan layouts that beckon customers who appreciate a touch of elegance and sophistication.
Aesthetics of Modern House Designs
When you are searching for unique house plans that fit the aesthetics you like, you will most likely come across a lot of modern style homes and contemporary house plans. As you can see from the features above, these plans will have features that make them stand out from traditional house plans. These aren't your ho-hum, classic homes that you've seen for decades. No, these are modern floor plans that bring in new elements for a chic take that's sure to add value to your home.
Modern home plans are sure to offer a lot, not just for your own personal enjoyment in your home, but also for future value so you can resell for a higher amount.
Team Truoba believes in the fact that we wouldn't have been able to hone our core competency of creating iconic modern house design plans, were it not for our clients who expressed their version and vision of their lovely homes.
We at Truoba dedicate our knowledge of contemporary house designs to our clientele. Because we, on our own, would not have been able to refine and perfect our house designing skills, was it not for our clients who shared their version and vision of their wonderful homes.
Additionally, if necessary, we make a few alterations during our discussions to improve the appearance and allure of the specified residential property. After all, it is a one-time investment that the clients will take pride in for years to come.
A home is not a geometrical enclosure with arithmetically partitioned spaces for individuals to survive in. It is a space that fosters emancipation and enables the occupants to relax and feel a sense of togetherness.
And Hence, Truoba takes pride in providing innovative house designs and floor plans for all types of clients, allowing its inhabitants to live in style and with a wonderful sense of well-being.
Everyone on the earth longs for their own house-a "go-to" place, a dwelling to unwind and heal the weal of the tolls of modern life and tolls of modern day life.
You have put a lot of effort into realizing your dream of owning a contemporary home, and you are almost there.
Make it your retreat! Truoba offers you the best house plans that cover the entire package of structural designs, interiors, exteriors, and other elements of décor like landscaping, etc.
At Truoba, we don't sell you only engineered designer modern house plans, or mere structural constructs. We provide you with the architecture to make it your Home! A place that offers you a feeling of belongingness!
When you feel or say "let's go home," you are not referring to the physical structure/s or rooms in which you live. You are, in reality, envisioning a specific environment that is uniquely yours, where you feel most at ease. A place where you live, thrive, and jive!
Modern house design from Truoba is cost-effective. Furthermore, we have a wide range of modern house design plans that are worked out by experienced professionals having years of experience and up-to-date with the latest domain knowledge.
A home is a place of refuge, where a person/s feels safe and welcomed. And, we at Truoba, acknowledge this human emotion/s and accord it the topmost priority, be it ready-made modern home plans or customized, made-to-measure house plans.
And therefore our modern home plans come integrated with a sense of positive emotions that go to make a housing structure made of concrete blocks or wooden blocks, a home.
Truoba provides small modern house plans and modern-style homes that incorporate "Simplicity and practicality," our trademark for our modern house designs.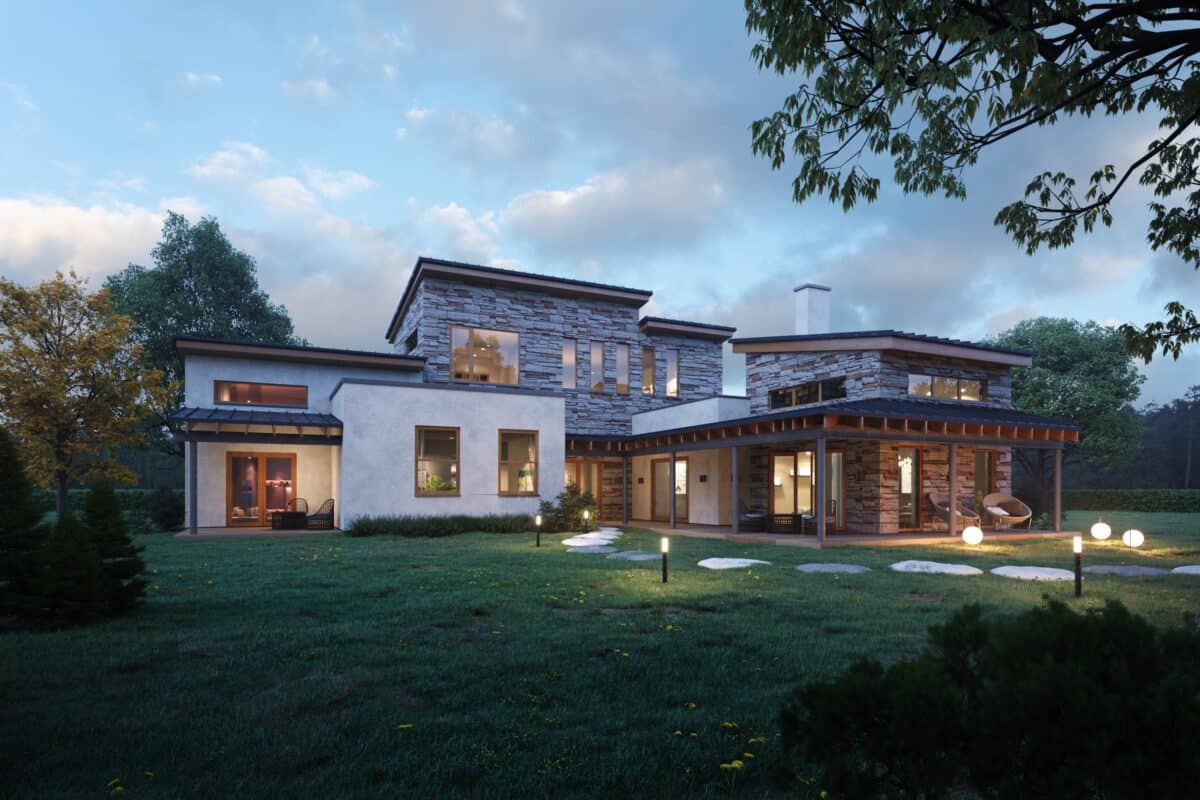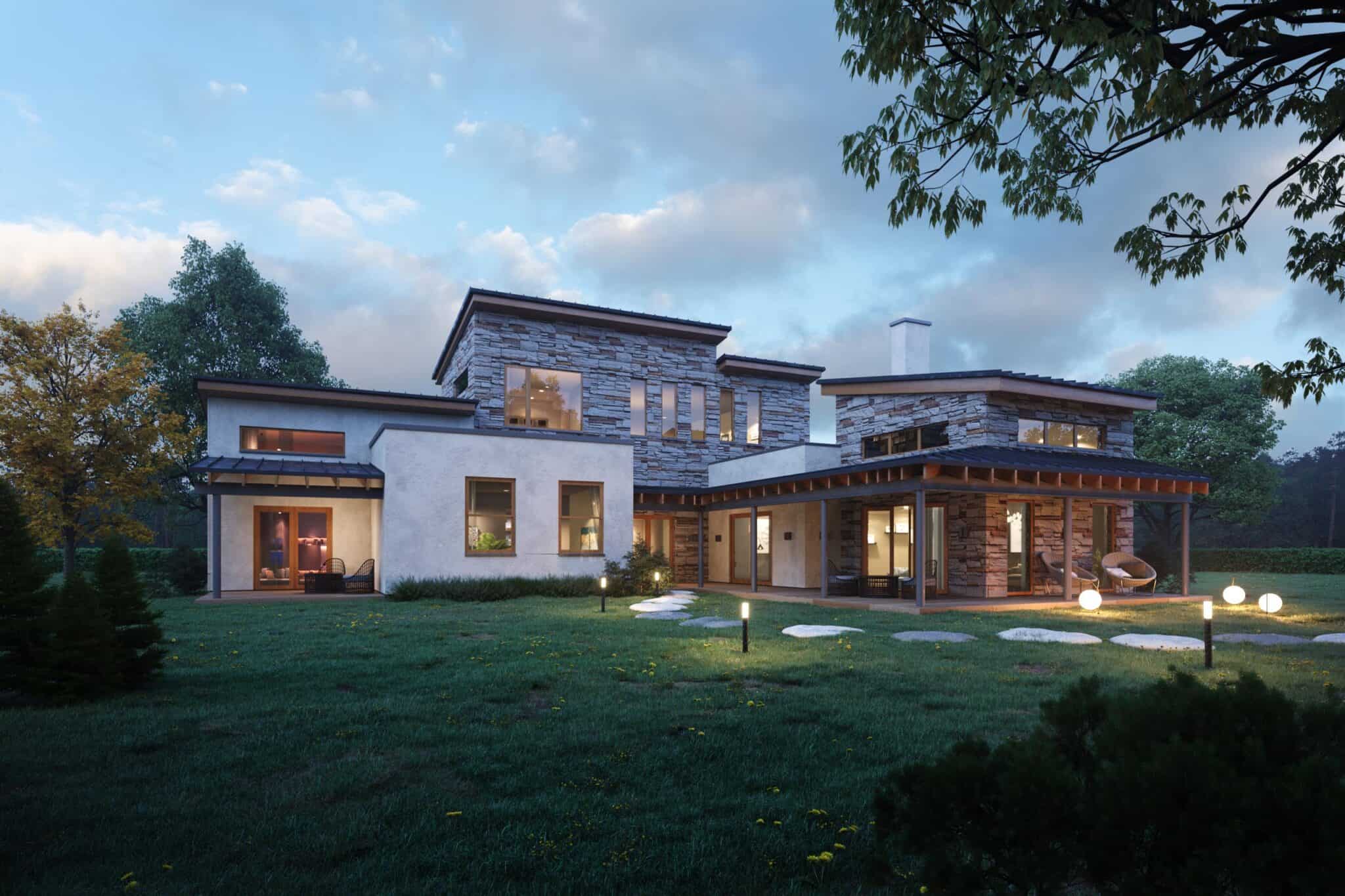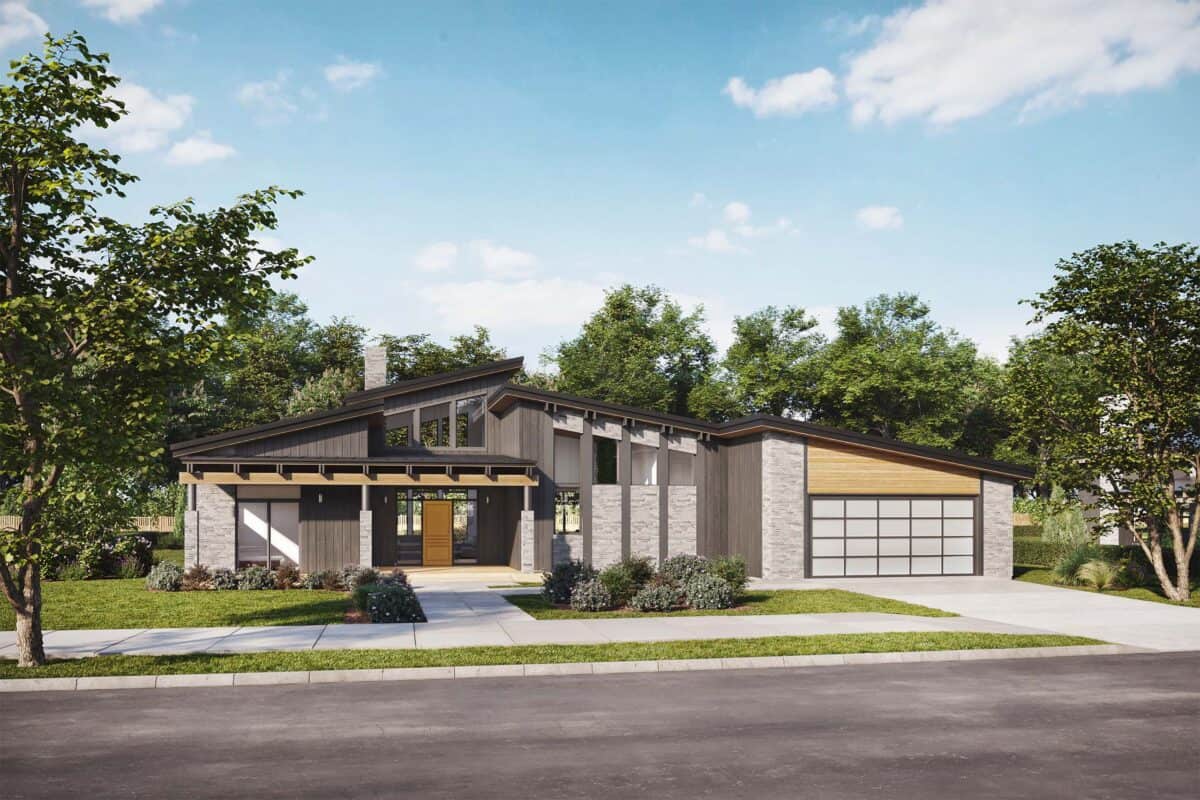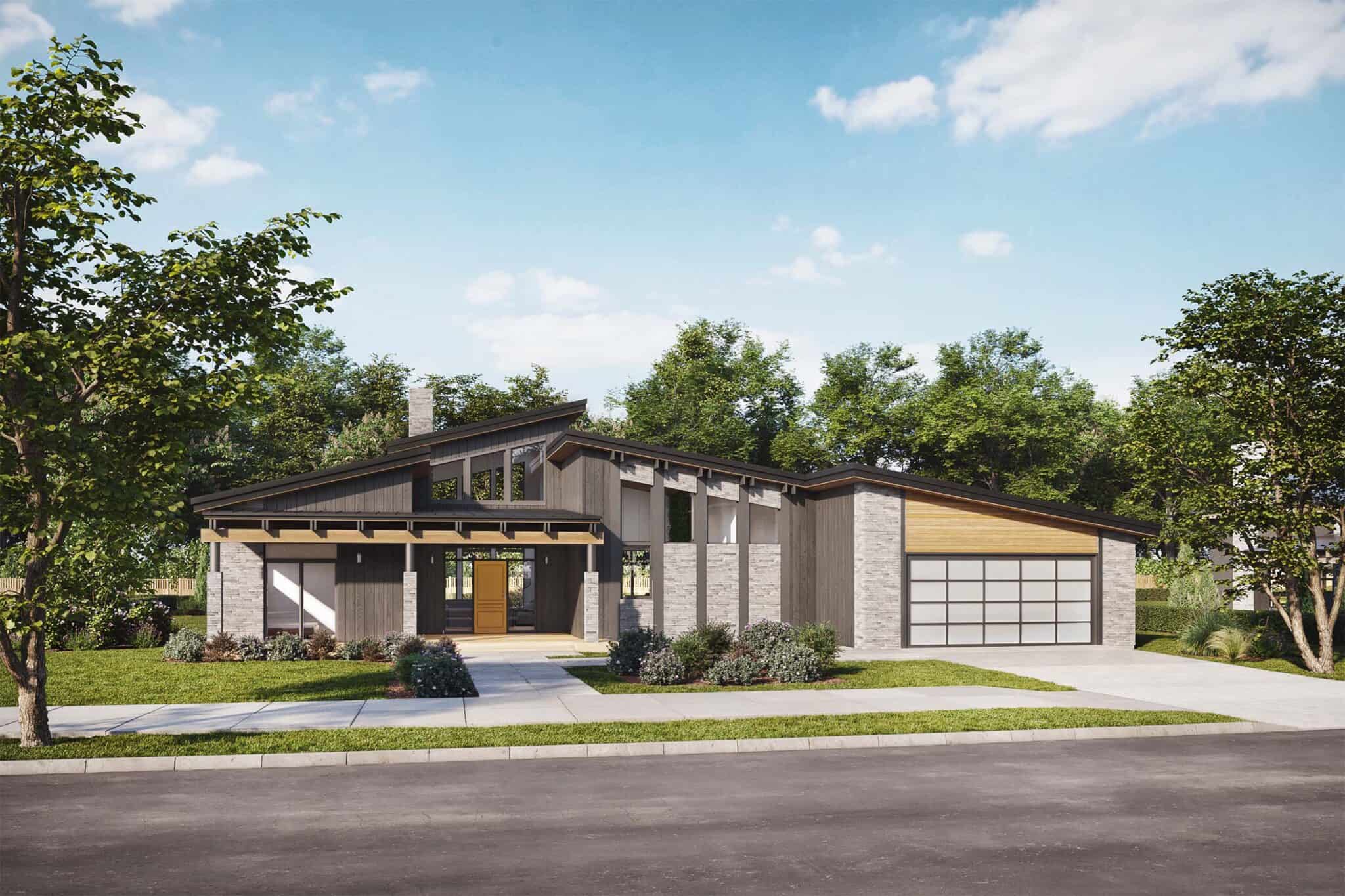 Simplicity and Functionality, the Essence of Modern House Floor Plans
A Home, by its very essence of design, interiors, exteriors, and floor plans should inspire happiness. Modern home plans should kindle, touch off and foster a feeling of pleasure and contentment, a sense of enjoyment and enthusiasm for life.
So, if you are planning to build your first home or a second home for holiday rentals, or for that matter a cozy living space in a quiet, serene neighborhood, etc. small modern house plans from Truobas' offer you scintillating design options.
Not to mention the benefits that small houses offer like:
Lower financial burden-meaning lower stress and better well-being
Sleek and clean look
Interior décor and furniture elements for modern looks
Proximity to conveyance spots and ease of commute, shopping, etc
Outside of the city yet still in the city
Additionally, Truoba's modern house design can also incorporate energy-efficient plans that include starred appliances; fixtures, ventilation, and natural light management within the housing premises.
Energy-efficient home designs might cost a few dollars more upfront, but over time they pay for themselves many times over.
We advise clients to take advantage of these benefits. And if they do so, they would contribute to reducing our reliance on fossil fuels and, in turn, lessen our carbon footprint.
Having internalized the modern house designs, curb appeal, and exterior design including the landscaping let us now try and understand why floor plans are important for modern-day homes.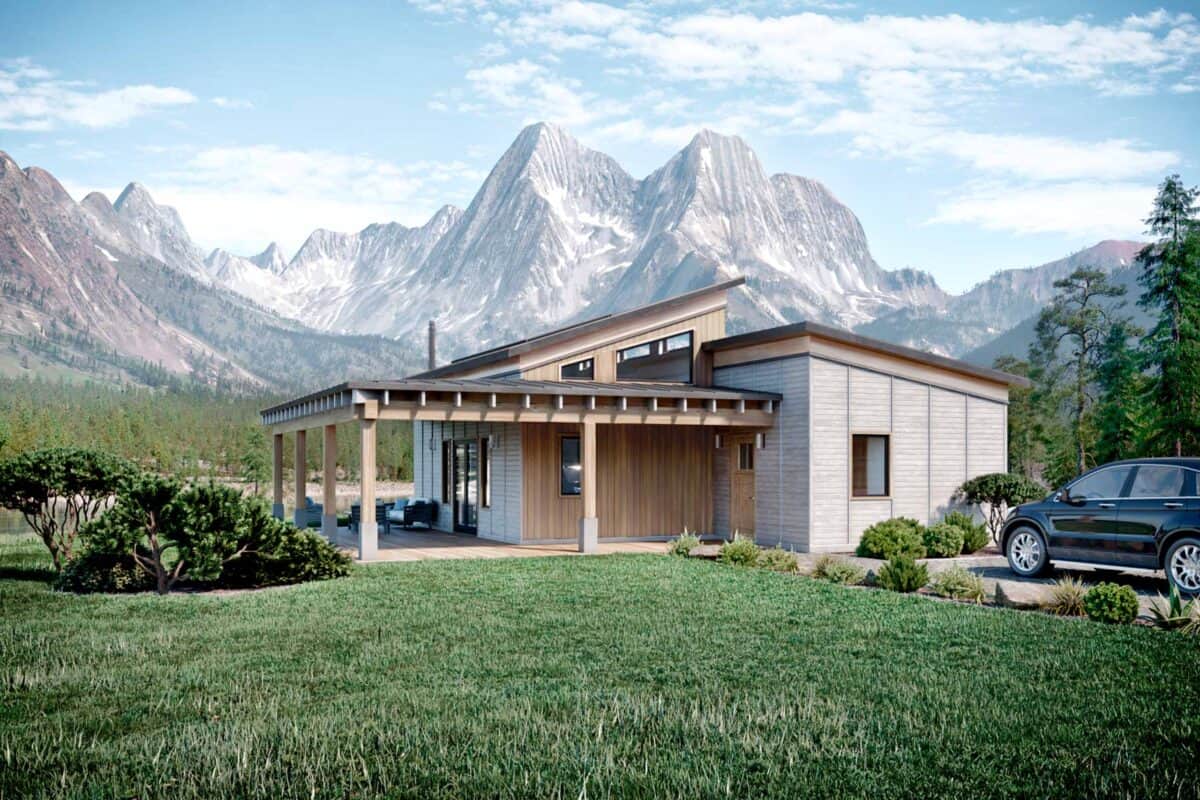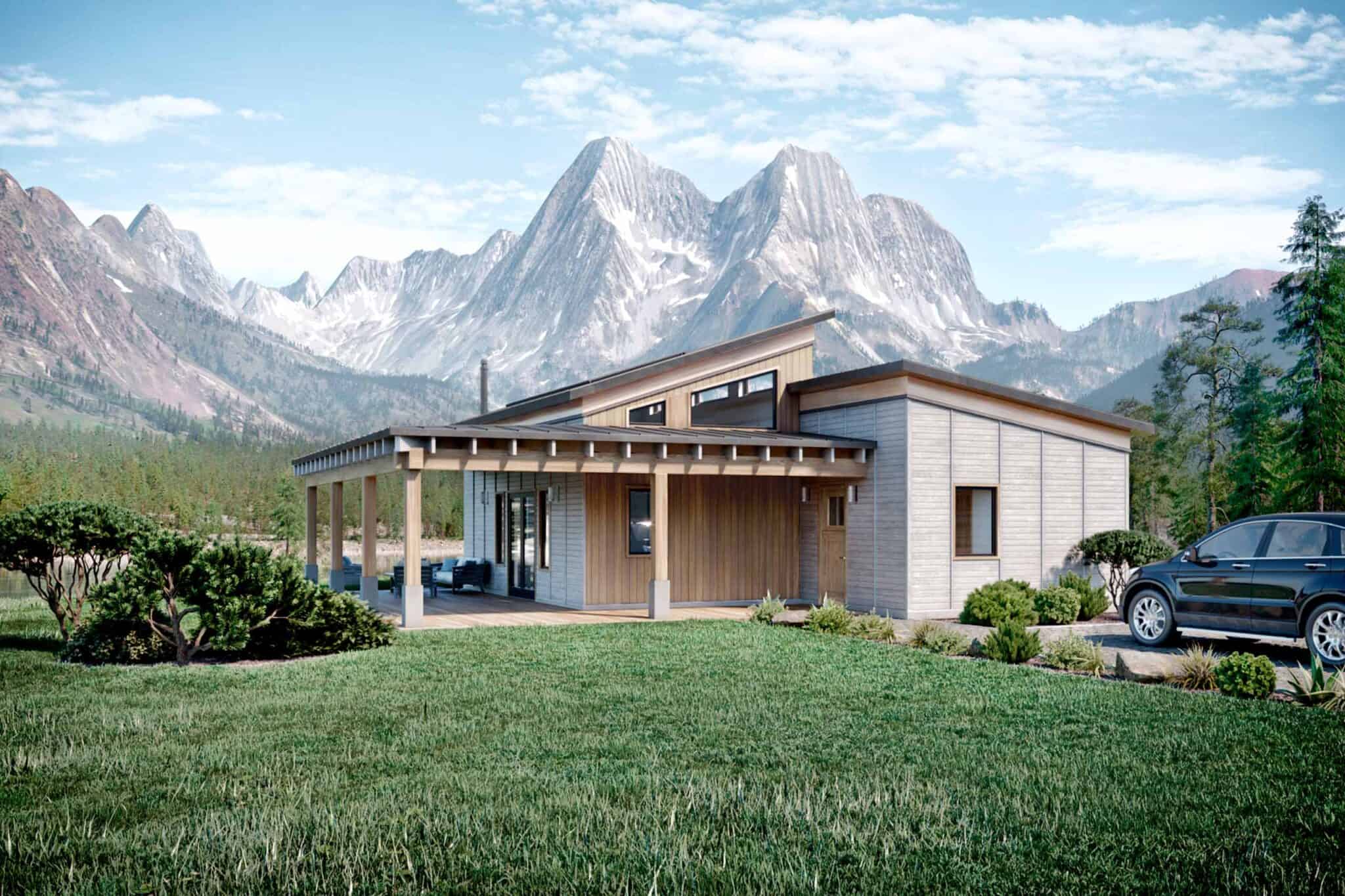 Floor plans were important in olden-day houses and homes too, but in recent times, modern house floor plans and designs are elemental in aiding the house/homeowner to visualize the interior flow, furniture spaces, and the location of decor elements within and without.
Although floor plans were crucial in earlier houses and homes, they are now essential for helping owners picture the interior flow, furniture spaces, and the layout of the decor features both inside and outside their property.
Floor plans were vital in the olden days too. But in recent times, modern house floor plans and designs have become essential as modern-day home buyers want to visualize the interior flow, furniture spaces, and the placement of decor components both within and without.
And our 3D floor plans and elevations put the owner's vision into perspective so that the owner can choose, alter and personalize the layout with objective clarity and go for it with alacrity.
Modern-day home buyers seek homes with "good bones". "Good bones" refers to the solidity of a structure's foundation and the soundness of the overall structure. In other words, it refers to, literally, the construction of a home-the architectural integrity of a structure.
Good bones also refer to a working floor plan, besides, as mentioned above, the solid structure along with appropriate doors and windows.
And at Truobas', we make sure to provide a wide variety of modern home designs with all the characteristics of a contemporary home. These designs include elaborate modern floor plans with a perfectly rational layout that promotes a smooth transition between common and private spaces while still providing a substantial amount of living space.
Truoba's Modern house floor plans accord an element of liveliness and make the space aesthetically delightful to be in. Additionally, in keeping with the concept of "good bones," our floor plans are created to have an open, airy, and pleasing atmosphere with plenty of natural light filling the majority of the spaces with the help of our oversized ceiling-to-floor window designs, etc.
And that's how our design engineers and architects endeavor to bring in the element of "Breathability" and other pleasing elements into our modern home plans which the clients really appreciate.