House Construction Drawings Which You Will Receive
PDF + CAD drawing set
At the end of Custom Home design process you will receive a construction drawing set. Give these drawing to your builder as see your house getting built.
House Construction Drawings Include

The List of House Construction Drawings
Plot Plan (+$100)
Construction Notes
Foundation Plan
Slab or Crawl | On request - Basement, Pier & Beam, etc.
General foundation design showing foundation layout with structural elements. There are three types of foundation to choose from: slab, crawl, and basement.
As in all building locations ground condition varies, your local structural engineer would need to approve foundation design and specify foundation structural elements.
Plumbing Plan
Shows the layout of plumbing fixtures with specifications.
Floor Plan
Indicates house layout with dimensioned walls, doors and windows.
Roof Construction Plan
Shows the layout and dimensions of the required roof structure such as rafters and beams. As show load requirement is different in each location your local structural engineer would need to approve and specify roof structural elements.
Roof Plan
Dimensioned roof layout indicating slopes, roof areas, chimneys, and decorative elements.
Sections
Cut through the building showing detailed floor, wall, and roof construction elements. Indicating room ceiling heights and structural element heights.
Elevations
Shows all sides of the house indicating building elements with its heights, specified materials, and all decorative elements.
Construction Details
Detailed house cut-away thought floor, exterior wall and roof with outlined specifications. Door and window details too.
Electrical Plan
Floor plan layout indicating locations of electrical elements such as lightning, switches, outlets, etc.
HVAC Plan
Indicates location and specifications for heating, ventilation and air conditioning.
Furniture Plan
Representative floor plan layout indicating room sizes and suggested furniture layout. Useful during the interior design stage.
Door and Window Schedule
List or all windows and doors with indicated specifications for manufacturer.
General Specifications
Plumbing, electrical and mechanical specifications
More Info
Plot Plan
Some counties require to have a plot plan in order to obtain a building permit. The plot plan shows where the house will be located on your property, so the builder would know where exactly to pour foundations. In order for us to produce a plot plan, you would need to send us your plot topography drawing or write us your plot boundary dimensions with stated setbacks. The plot plan would also show plot size, existing and new structures, set back lines, sewage disposal systems, utilities, power lines, driveway, paving, existing trees, etc.
Electrical Plan
Each customer knows better where they would like to locate lighting, switches or outlets. After you purchase the house construction drawings, if you would like to make electrical layout changes, send us your comments and we will update electrical plan for Free.
Structural Requirements
The construction drawing set must be reviewed by a local structural engineer, as of the different structural requirements in each county. Each location has different soil conditions as well as different load requirements for snow, wind, seismic, etc. For this reason structural engineer would need to specify supporting structure including beams, girders, headers, rafters/trusses, columns, etc. Also, most of the building departments require to get a local structural engineer's stamps to obtain a building permit. After the engineer's review, if there is a need to update the construction drawing set according to engineer's structural specifications, we will update the drawings for Free and will issue an updated drawing set. 
House Plan Set Types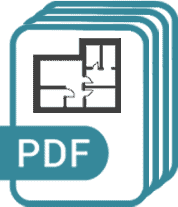 PDF
PDF set allows you to make multiple copies of the plan drawings and send digital copies to everyone involved in construction process. Print locally if required paper version.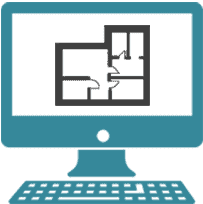 CAD
CAD set is Computer Aided Design files that allow you to make changes to the construction drawings with your local architect, designer or builder.