Our Vision
We believe that our living environment should be a better-designed place to live and we understand people's need for good quality homes. Truoba has the ambition to create our environment in a meaningful and pleasant place to live. In every aspect, good design adds value to your property, life and urban environment.
Our Principles
As house plan architects we seeking high living quality in every project. Truoba is always looking for new home design ideas to reflect contemporary lifestyle character. Every Truoba home design reveals a dialog between inside and outside spaces. Functionality is a priority to every project and innovative design ideas transform efficient house in a comfortable living place. Elegant house exterior makes our living environment socially responsible and a well-designed interior makes your living comfortable and uplifting.
Good house design is a combination of right massing proportion, open house floor plan layout and composition of different materials. Flexible living spaces are designed to be adaptable to the changing inhabitant's lifestyle and future needs. Architecture is a form of art which costs to build and for this reason we design houses to simplify building construction.
Sustainable Houses
Truoba is focusing on Passive House design principles in order to design efficient homes.

Airtight Construction


Well Insulated and no Thermal Bridge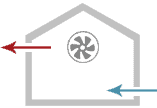 Good Ventilation


Thermal Windows