Modern architecture and design trends have been presenting the most-favorable and forward thinking living spaces for more than a century. Modern architecture has not only brought a new sense of aesthetics, it also implemented a totally fresh and different way of building a house. In the past, people have been primarily building houses with traditional materials of wood and stone. Although kindling a sense of nostalgia and a lot of people may find these materials pleasing to the eye, these have been supplementary materials since the beginning of the 20th century with the rise of the modern architecture.
Modern architecture was very much inspired by modern art movements at the start of the 20th century, as well as the rapid industrialization of our lives. Earliest innovators of modern architecture were inspired by cars, factories, philosophers; all these had a sense of novelty and innovation. Architecture was not late follow: modern architecture was a new page in design, aesthetics as it was a proclamation of a new way of living.
Like modern art, this new architecture was much more simpler and reduced of ornamentation and traditionality. It was facing a new era and were trying to produce spaces for the new century and the people. It was not simple for simplicity's sake, it was minimalistic. Simpler geometries, clean lines all connected on the principles of a new age. Gone were the details that could be found in the houses of the previous centuries. In its place were stark forms that was expressed through concrete.
To be free of a canon of architecture meant architects were more expressive with their creations, as well as the clients wants and needs being of more importance. There were no rules to follow. Wallpapers were a thing of the past, white walls with simplistic art pieces were more favorable. In contemporary houses, these principles laid out are still easily seen, as it was a huge step forward in design history.
House of different materials
Modern architecture is a combination of minimalist aesthetics creating a subtle, tasteful and presentable look for your moder house design and the newest building technologies making it very simple to build a house from the bottom-up. Materials like steel and concrete provide enough technical accuracy to create these precise and aesthetic environments. These technological advancements slowly expelled the need for ornamental details that are to be expected in wood and stone, leaving its place to simple and clean lines of modern house plans.
These technological advancements create spacious places, where it is possible to see through the whole house from the living room to the kithcen and onto finely designed corners of the house. Onto these high ceilings, more windows can be opened to let more sunlight inside of the house. The high ceilings make it possible to implement mezzanines if necessary, creating places that are private yet feeling a part of the whole experience of the house.
No place for complicated roofs in modern house designs
Technological advancements in the built environment makes for several different types of roof structures that were impossible to deal with before. Today, we can built less angular roofs in any kind of environment no matter the rain or snowfall, because of the improved conditions in drainage solutions and insulation technologies. One-sided pitch roofs, also known as shed roofs, are a lot easier to build with less material and easier craftsmanship. Shed roofs require less wood in trusses and structural parts, as well as needing less roofing material like insulation as they cover less area, making a significant advantage in building cheaper.
High ceilings combined with less angular roof structures make it possible to make more room on top of a fixed amount of ground floor area. These vertical places combined with the more traditionally fixed places one would expect to find, such as the living room and the kitchen makes for a highly flexible and open living experience, which you can customize according to your needs.
Open floor plans with flexible space
Modern architecture also means simplicity. Simple floor plans with less walls creates comfortable and spacious places within your house, making the most of the limited area you have. Open floor plan houses are easy to build and easy to live in, and make up a totally flexible space for you to live in, where you can re-furnish the house in any way you want without having to think about restricting walls. This would give you further freedom in designing and organizing your home and your lifestyle, as the standard places you would want in your modern home designs can be as private as you want, or as free. For example, you can combine the living room with the kitchen to create a much larger singular place with a lot more space, compared to traditional houses. Implementation of a free-plan means freer conditions of living and sharing the space with loved ones. The feeling of a singular fresh space enjoyed together, as the free-house plan layout removes the interior walls and enables a visual connection between spaces and people.
Simplicity is the key
With these minimalist aesthetics, you will never get tired of the look of your house and you will be able to customize it however you like. These simple walls with no ornaments and basic colors schemes will make up the most flexible and tasteful background for all your favourite furniture, chairs and rugs.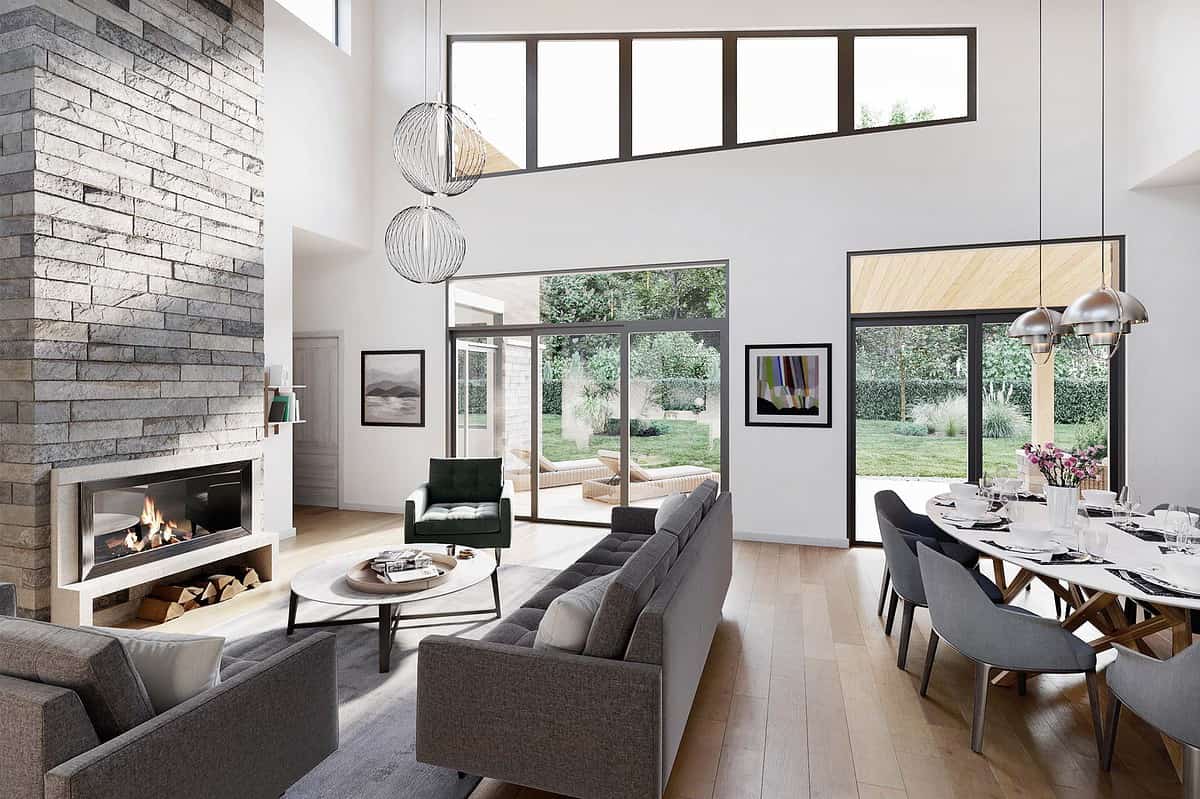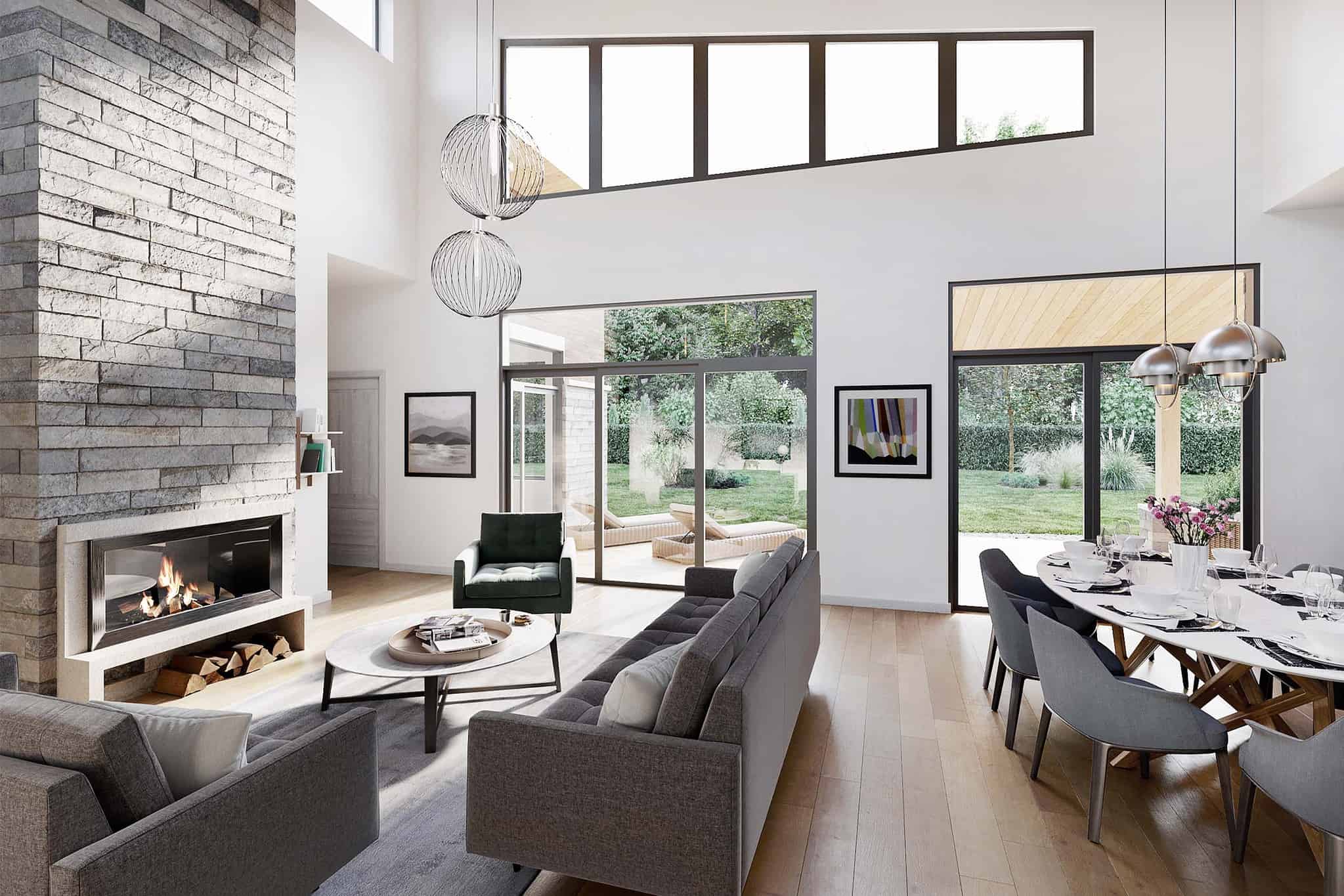 Larger windows capturing best outdoor views and bringing more natural light
With a modern house solution, you can have a lot more sunlight and natural light through much larger windows. These would enable you to let more of the outdoor views inside of the house, giving you a sense of a much freer space. Larger windows and glass doors would let you see much more of the land your house sits on top of, almost evoke a sense of sitting among the trees surrounding your house, or feel inside of the natural environment you see from your windows.
Natural light and especially sunlight is found to be especially helpful in maintaining a healthier mental state. Sunlight is known to be increasing the seratonin in your body, making your overall mood much better. Working in coordination is melatonin, a chemical in your brain that helps you sleep better at night. Sunlight not also helps you during the day, but also makes for a quality sleep.
Introducing bright colors
With the more neutral color base of modern architecture is primarily known for, introducing bright colors into your house is more effective in presenting a lively and colorful look. Maintaining the base of neutral colors is important to not get to colorful and losing the subtle look. Many modern interior home design ideas introduce a strong primary accent color, such as the Trouba Class 216 interior blue color. These work especially well with the interior lighting provided through large windows and the natural sunlight, making the colors stand out a bit more.