Popular Types Of 3 Bedroom Floor Plans
Simple floor plans
For many people, simple 3 bedroom house plans with garage are the way to go. You get a home that has just enough room for you and your family. These houses don't have a complex floor plan layout which helps to reduce construction cost.  Also, the design aesthetic is less fancy as simplicity and practicality is the key. Simple house plans are made to offer you a design that will continue to be "in-style" for decades to come, so you don't have to worry about the resell value.
Small house plans under 1500 square feet
Another choice that you might consider are small 3 bedroom house plans. A home that is under 1500 square feet would be way cheaper to build, compared to the average house. Also, you are going to save a lot of money on your monthly bills. Heating, cooling, and electricity for a home of this size will be much more affordable.
Another thing to consider with a 1500 square foot home is that you are ensuring you have as much outdoor space as possible on your lot. These type of homes are a good option for families looking to build a house on a small lot in a suburb. Another important thing to note about small 3 bedroom floor plan is that they can still have plenty of room. This comes down to the functional, well-designed floor plan. Small houses that are thoughtfully designed will offer the creature comforts that you crave, without adding too much to the bottom line.
The Reasons People Choose to Living in Modern 3 Bedroom House Plans
Homes built upon a 3 bedroom house represent a great investment in the future and family. The multitude of possibilities of three bedroom house plans with a garage or without is very inspiring.
Three bedrooms plus a kitchen, living room, and perhaps a dining room offer a wide range of possibilities. The modern 3 bedroom house plans with garage are ideal for a new family that intends on growing. With a little imagination and some bunk beds, the Brady Bunch lived in a larger house.
Of course, your family does not have to be that large for it to make great use of a 1000 sq. ft. house plan with 3 bedrooms. It also fits perfectly well for the master bedroom, one child's bedroom, and a third bedroom for guests. The uses of the third bedroom in this scenario can change over time. That is one of the central charms of the these houses.
What had been the guest bedroom can be converted into another child's bedroom, of course. It could also be made into a home office. Or perhaps a yoga studio becomes part of the family picture, the same as any other sort of avocation or hobby. Or for those Sundays when the living room TV is set to football all day, bedroom number three can be an alternative entertainment room.
With three bedroom house plans, you have the flexibility to set the master bedroom apart from the other bedrooms, of course. This could give everybody a little bit more privacy.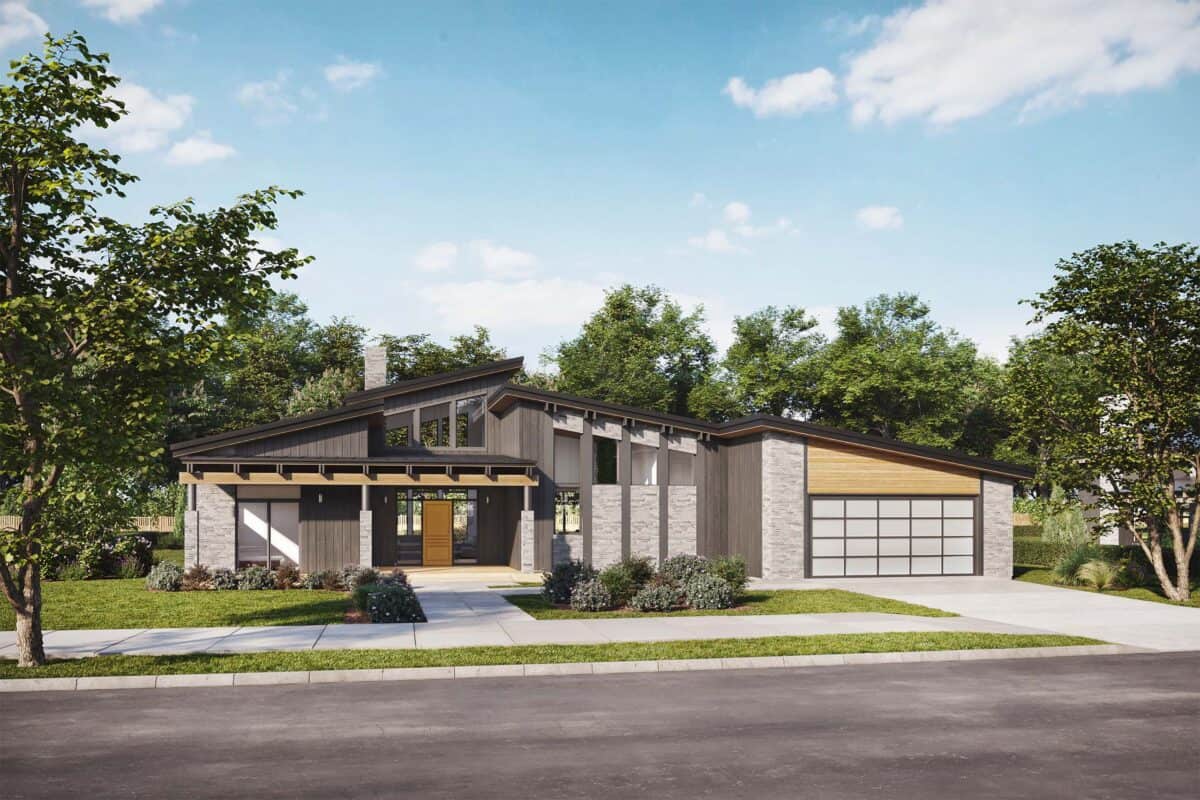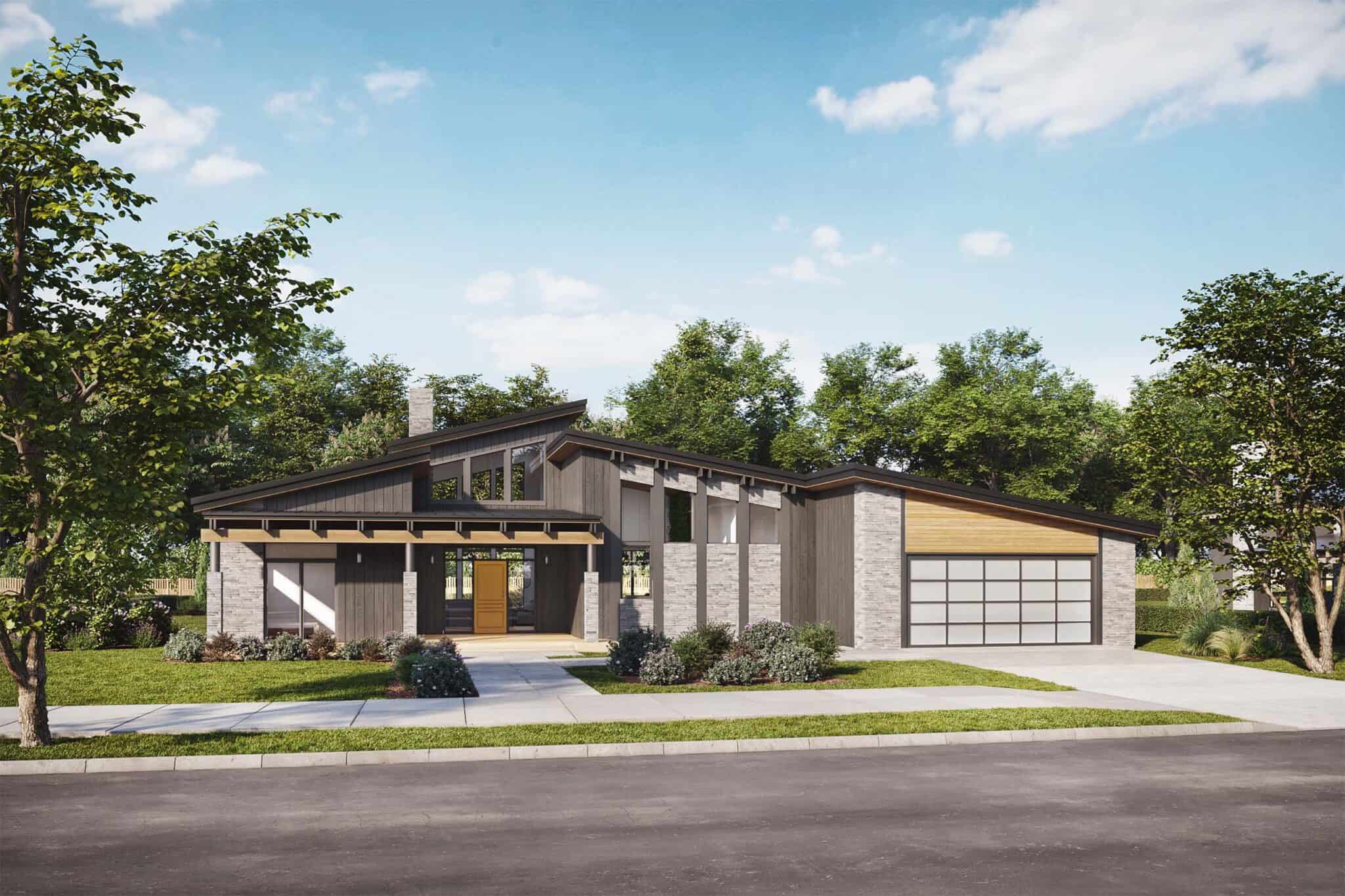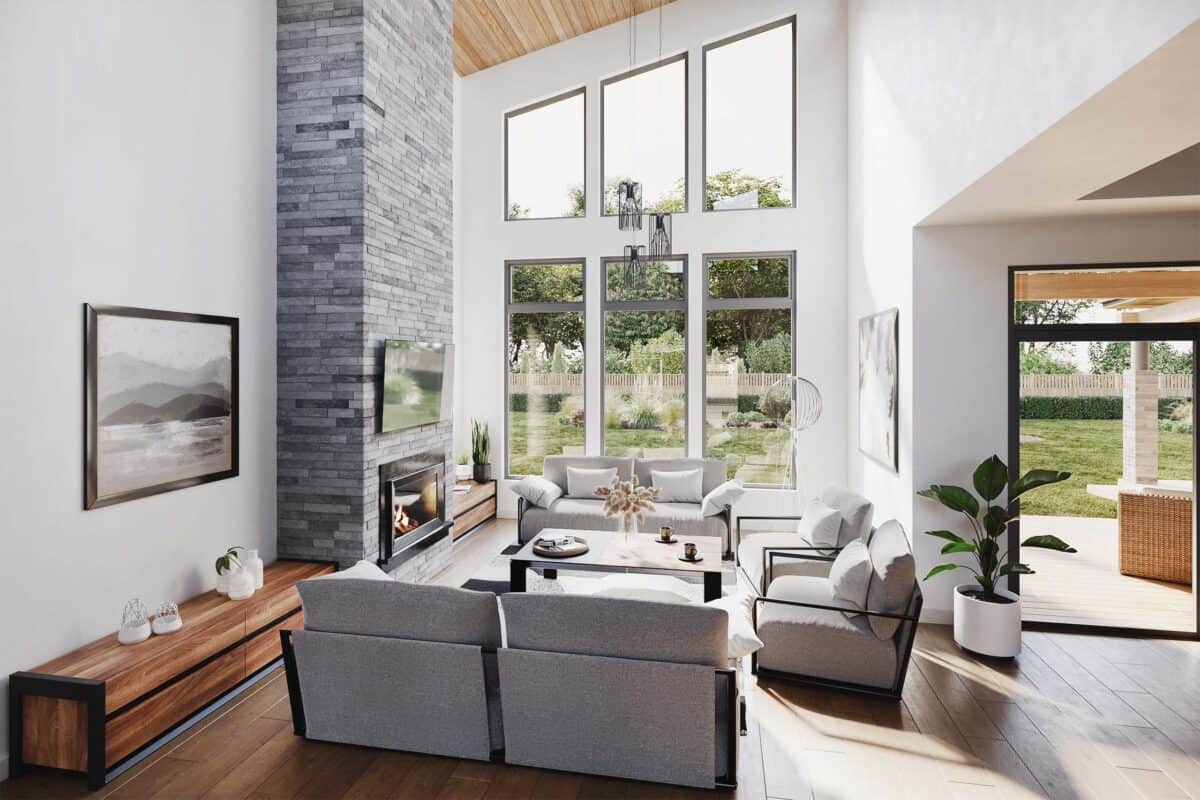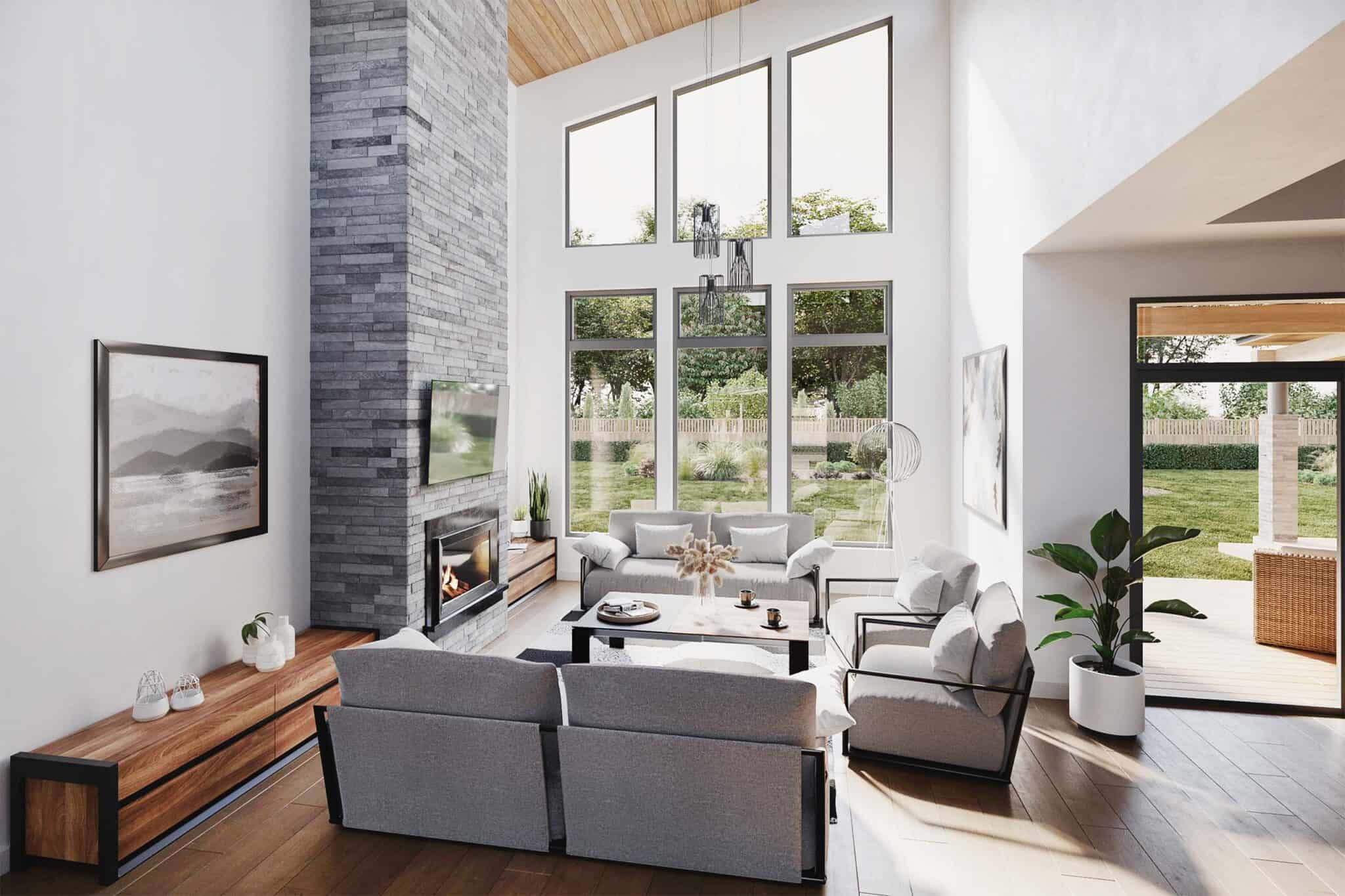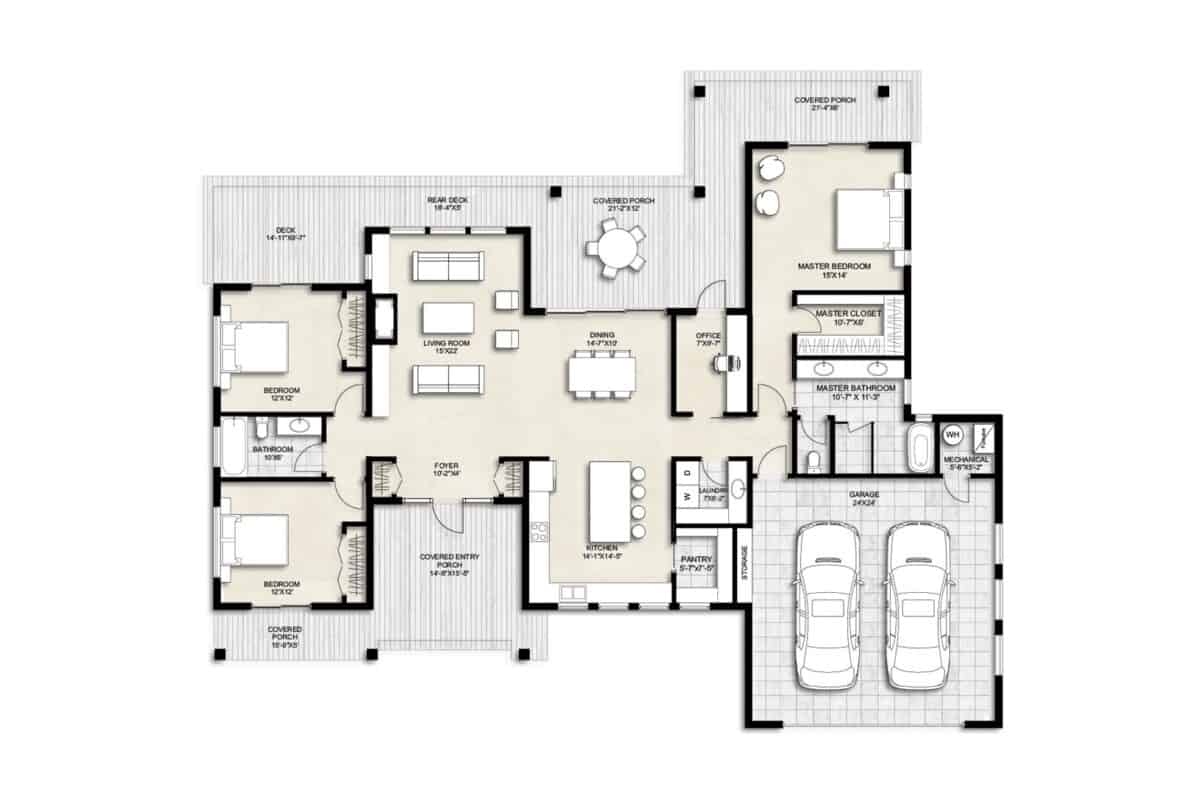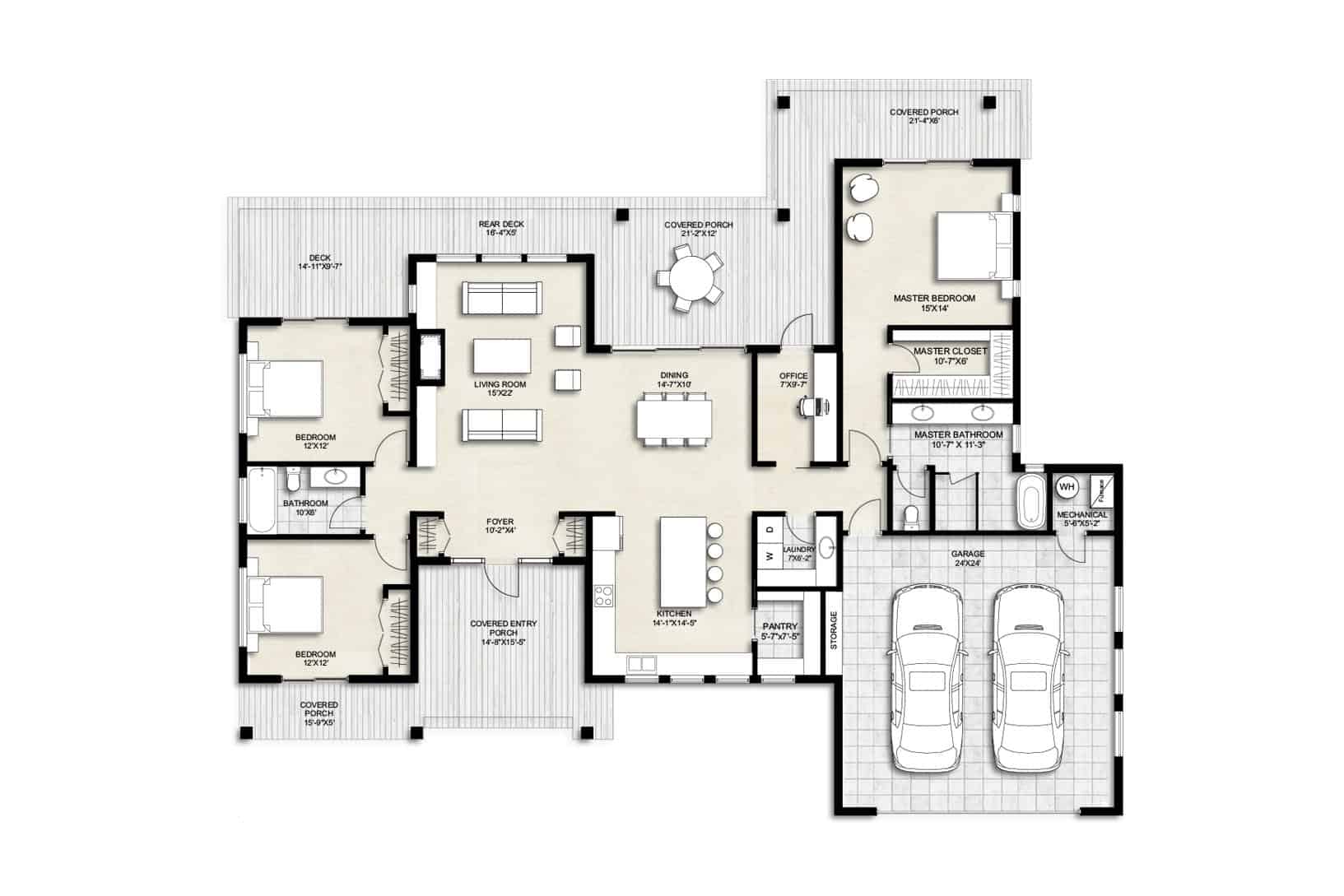 A Happy Medium
When planning for a family, ambitions can grow large and people might be tempted to build more house than they actually need. The modern 3 bedroom home plans are a happy medium. Four or more rooms can be too grandiose in design for a particular family, which ends up with a disused spare room and a monstrous mortgage. The three bedroom house is a happy compromise between growth and prudence.
Take It Outside
Assuming the home is intended for a family, 3 bedroom designs are ideal for a patio, porch, or deck. Families need space to move around in, especially the kids. The façade of the home provides good cover for a private patio in the back yard. It can be the center of family fun in warm weather. Cookouts, games, parties. Events where children can burn off some of their enviable energy.
Future and Legacy
Finally, 3 bedrooms can represent a dedication not only to the young family, but to the future of the family, perhaps for generations to come. A larger home can make for a solid foundation for a strong family with happy times and memories. When the time comes for the first generation to downsize their housing, or otherwise move on. A good 3 bedroom home can be passed down to the next generation. They can meld their happy memories with the new ones they make with their young families. It could become one of the houses passed down through the generations.
Benefits of Building and Maintaining a Low Budget 3 Bedroom House
Nowadays, as of rising material costs and labor it becomes very popular to build a lower cost homes. The economical 3 bedroom house design has several benefits. First of all, it is more affordable to build and maintain compared to larger and more expensive houses. People realize that they don't need hat much space to live which very often can be unused. Living in a more compact house doesn't mean you are loosing the life quality but rather increase it as the people choose to spend more money of activities rather than a larger house. Also, smaller homes are more energy efficient and can help save on energy costs. This means that when building 3 bedroom home if all he rooms a slightly smaller than the average American house, you a spending less on heating and cooling. Due to its compact size, it is easier to clean and maintain simple 3 bedroom house design. Having lower running costs would allow you to spend money on other things that you would more enjoy. Moreover, if the family is growing and you feel you need more bedrooms of additional spaces such as family room, games room, etc. you would always build an extension to your house. The low cost 3 bedroom house can be easily adapted to fit the changing needs of a growing family. This way you would use the space more efficient and build the size of a house that you actually need now. You would maximizing the functionality of each room.
Why People Choose to Build Single Story 3 Bedroom House Plans in America
There are several reasons why people may choose to live in a one story houses rather than a multi-storey house. First of all people may prefer the simplicity and practicality of 3 bedroom house plans single story. Instead of going up or down he stairs every day some would enjoy the easier access of the rooms that are at the same house level. People with the mobility issues have difficulty to climb stairs, making a one-storey house more suitable for them. Families who have young children will find it more convenient to monitor their young children in a single-level home. Normally one story homes have a grater connection to the outside as more rooms can have the decks or porches. However, when it comes to the construction cost, in some cases single story 3 bedroom houses might be a more expensive to build than 3 bedroom 2 story house plans, since it would require more materials for foundation and the roof.