Top Reasons to Choose Small One Bedroom House Plans
If you are facing retirement, or you are a homeowner who is just starting out, you are probably looking at a lot of different options for your home. For many it can be challenging to determine whether or not they want one- or two-bedrooms in their home. So, how can you decide which option is the best for you? Take a look at the benefits of 1 bedroom house plans with loft, and reasons for you to choose one.
Budget Friendly – One of the biggest draws of one bedroom home plans is that they are much more affordable. This is because they are typically smaller and usually have fewer bathrooms. The less square footage that is needed, the less the home will cost. You can save a lot of money on your mortgage, which you can then either put into your retirement. If you are starting out, you can put it into your savings so, latter you can purchase a larger home
Also, simple one bedroom house plans will cost less to heat and cool and will require less electricity. The smaller the home, the less the everyday costs will be. This is definitely something to think about for those who are on a tight budget. Plus, if you select small house plans, you will need less furniture and appliances in the house.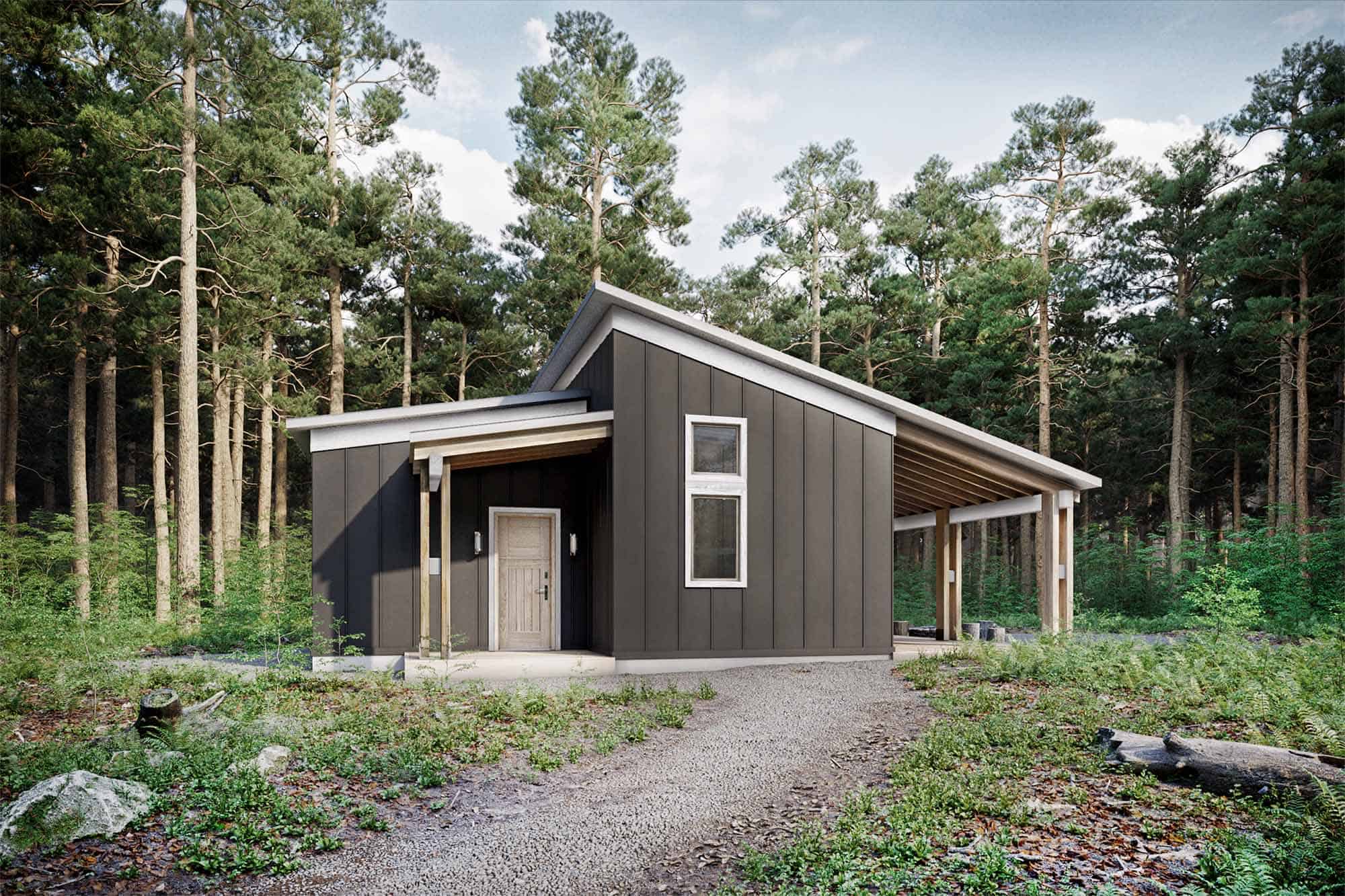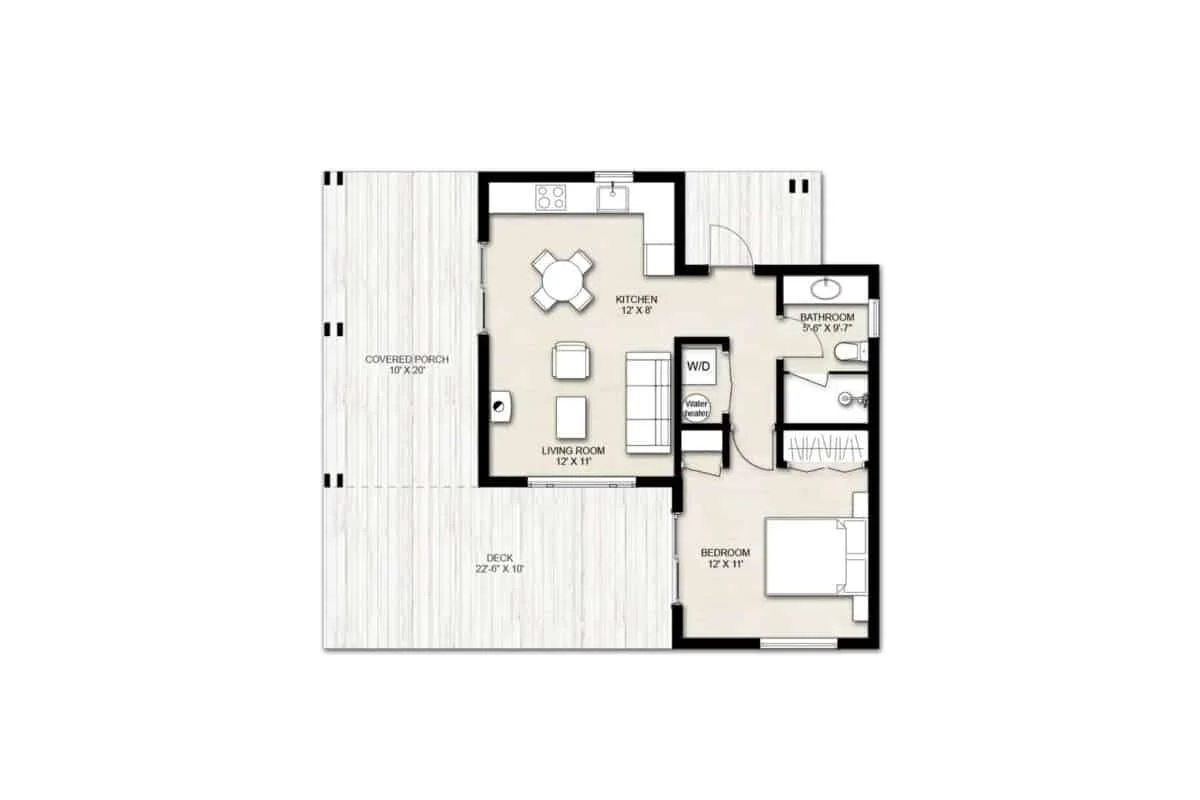 Less Maintenance – small 1 bedroom house plans have small square footage which means the house maintenance will be a lot more manageable. Keeping a smaller home clean is much easier, so you can manage it on your own if you live alone.
No Excess Space that is Wasted – When you build small one story retirement house plans, you are getting just enough house for what you need. There won't be a lot of excess space, so you don't need to spending money on unused home areas. One room house plans ensure that you are getting the amount of house that you will use, whether you are a single person or living with your spouse.
Safer for Pets and Grandchildren – One-story one-bedroom homes are safer for children than a home with multiple stories. This is because stairs can be dangerous for young children and babies, as well as smaller pets. If they fall, they can seriously injure themselves. In a smaller home without stairs, you will not have to worry about this. You also won't have to worry about getting up and down the stairs which becomes problematic as you get older.
If you are considering retiring in a smaller home, or you have a small family and don't want a lot of extra space, consider 24×24 1 bedroom house plans for your new home build. You can still get all the creature comforts you want, without having a ton of extra space you do not need.
Who Lives in Simple
1

 B

edroom

House Plans

?

Many people find it useful living in 1 bedroom home plans that are smaller than average homes in America. Starter homes for young people, perhaps. Simple one-bedroom houses are also perfect for vacation homes. They are relatively inexpensive, so you don't have to break the bank to have a nice little getaway home. Houses built from 1 bedroom guest house floor plans can serve as in-law housing, and so-called granny housing, as well.

If what you do for a living demands a studio or home office, a simple one bedroom house plan could provide the perfect solution. A building dedicated to a specific purpose, like work, almost automatically increases production.

Finally, if you have a small lot that you would like to turn into a source of income instead of just being a tax burden, a simple one bedroom house can turn that lot into a rental unit, a generator of income. As the lack of affordable housing comes more to the forefront in the news, many localities are becoming more open about zoning for small homes.
Features of 1 Bedroom Floor Plans
One recommended feature of one bedroom houses is an open floor plan. Open floor plans work well with one bedroom houses. Since there are fewer walls-as-barriers, open floor plans can make a 1 bedroom house design feel bigger.
Patios, porches, and decks are other possible features in small vacation homes. Like the open floor plan, these add-ons make maximum use of limited space. They turn to the outdoors for more living space.
Lofts are another option to make one bedroom floor plans feel more spacious. Especially suited to A-frames and cottages, lofts above make maximum use of limited space. A loft is essentially an additional room overlooking the open floor plan below. This contributes to the feeling of openness and spaciousness.
Perhaps you want to build an add-on to an existing house. One bedroom houses can do the trick. With a little bit of ingenuity, the additional tiny house can be made to look like it is attached to the main house. It is recommended that you add whatever architectural hallmarks are on the main house to the new smaller home.
If done correctly, small housing is the ultimate in minimalism and low maintenance cost. When building low cost simple one bedroom house plans they can be the heart of a life of simplicity, understatement, privacy, and elegance.
Styles of 1 Bedroom House Plans
Homes built from one bedroom home plans are appealing and useful for people in many different situations. They are ideal for people with mobility problems- they are one story house structures, so there is no stair climbing. This feature is also appealing to households with small children, who might fall down the stairs. If you are building from a 1 bedroom house floor plans, the same benefits apply.
The 1 bedroom house plans lends itself to several different types of styles. You can go with a cottage style, making a cozy home for yourself and your household. You can also build a cabin with a one bedroom. Bungalows and ranch houses are options for the one bedroom house plan, too. There are even options for garages with apartments!
Does 1 Bedroom House Suit Your Lifestyle and Life Plans
People may choose to live in a one bedroom house for a variety of reasons. They may prefer the simplicity and practicality of a smaller, one bedroom house. Single people or a couple without children, might find a smaller house more suitable for their needs. One of the main reasons people build smaller homes is that they have a limited budget and want to save on construction and maintenance costs. Some people are looking for an escape to the nature and as they have their primary house they choose to build 1 bedroom vacation cabin in the woods or by the lake.
The decision to build a 1 bedroom house for your future home depends on your personal needs and preferences. Some factors to consider when deciding whether a one bedroom house design is right for you include:
Your current and future living situation: If you are single or a couple without children, a one bedroom house may be a good fit. However, if you have a growing family or plan to have children in the future, a larger house may be more suitable.
Your budget: Building a smaller house is less expensive than building a larger house, so it may be a good option if you have a limited budget.
Your location: If you live in a busy city or urban area, a smaller house may be a more practical and convenient choice. However, if you live in a more rural area with plenty of land, you may have more flexibility to build a larger house.
Your lifestyle: If you prefer a simple, minimalist lifestyle and don't need a lot of space, a one bedroom house may be a good fit. However, if you like to entertain and have a lot of hobbies and interests that require space, a larger house may be more suitable.
Ultimately, the decision to build a one bedroom house should be based on your personal needs and preferences, as well as your budget and location. It may be helpful to talk to a professional residential architect or builder to discuss your options and get advice on the best design for your future home.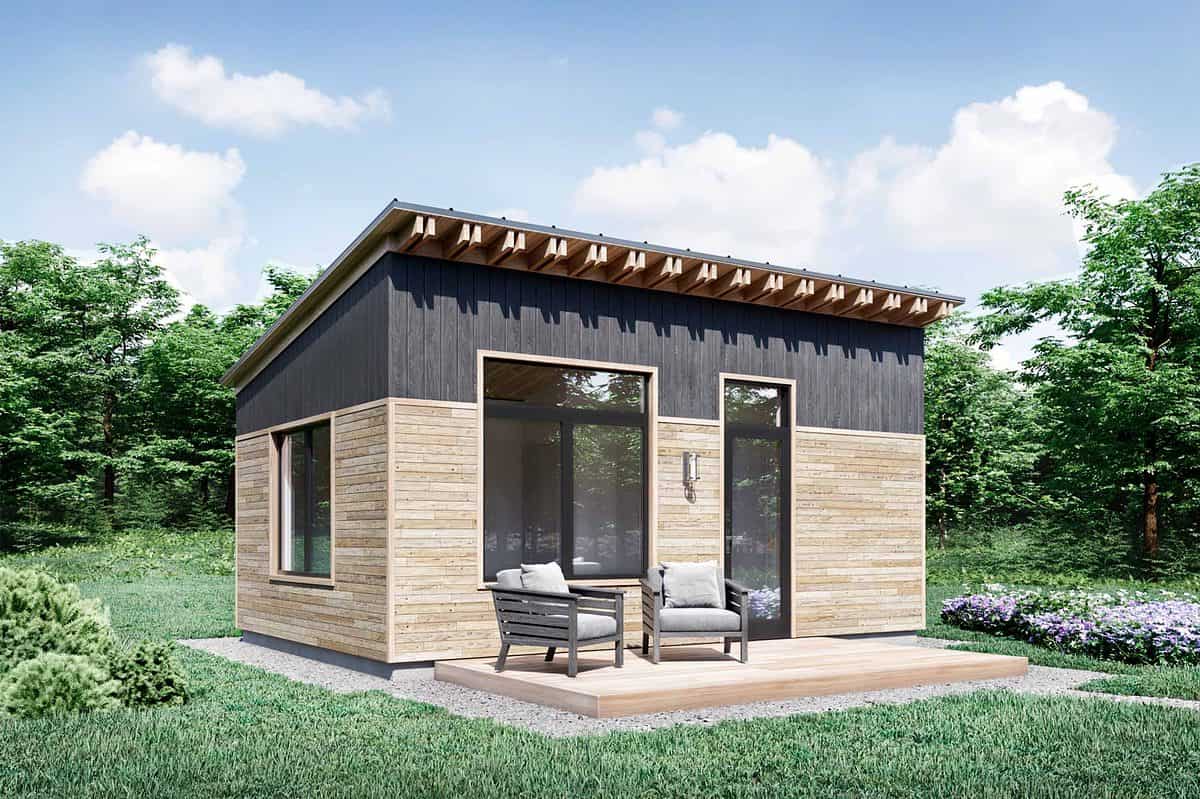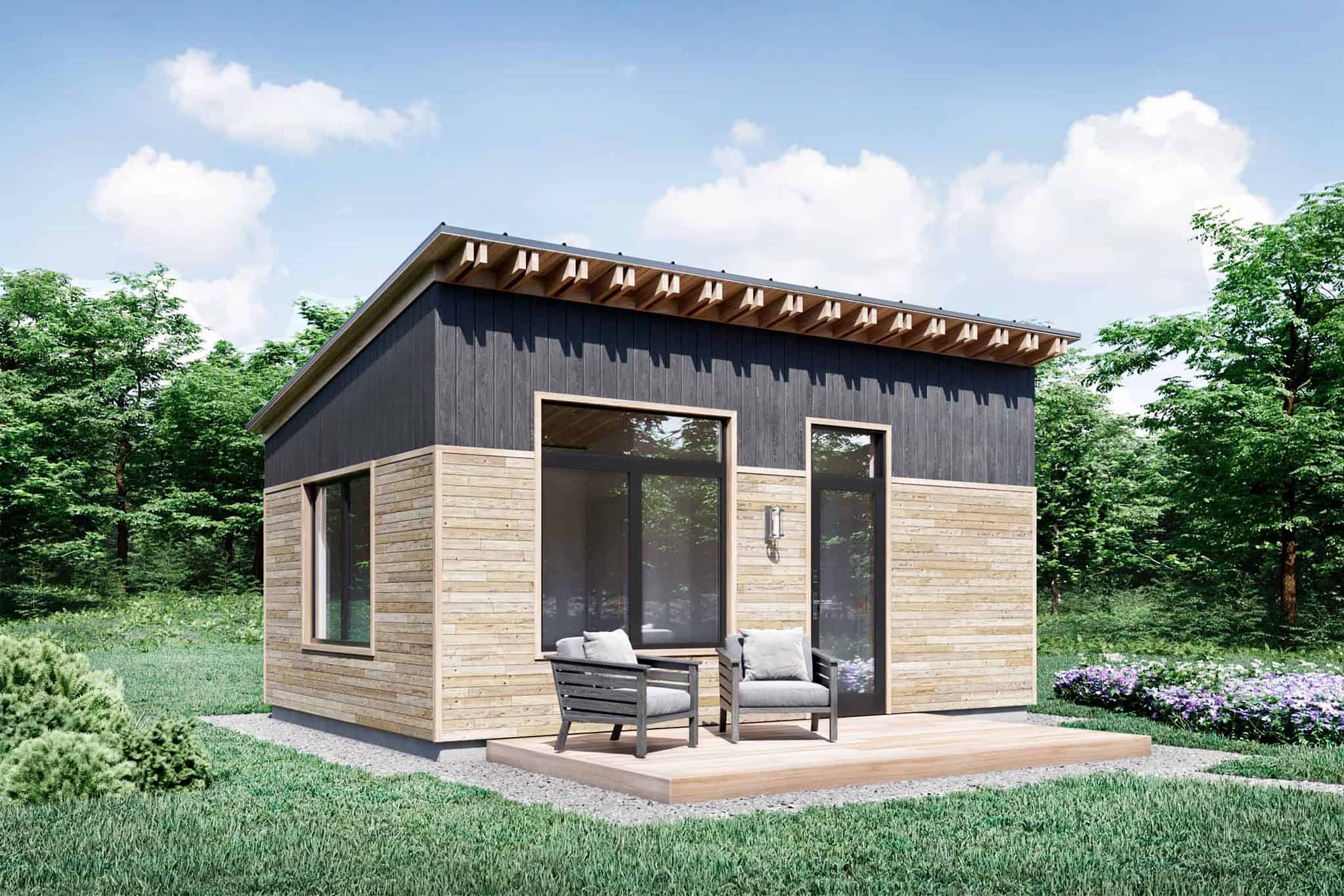 Characteristics of 1 Bedroom House
One bedroom houses are typically characterized by their small size and compact layout. Some common characteristics of one bedroom house design include:
A single bedroom: As the name suggests, the house has only one bedroom, which is typically located on the ground floor.
A combined living and dining area: In a one bedroom house, the living and dining areas are often combined into an open plan space, which can be used for relaxing, entertaining, and dining.
A compact kitchen: Smaller houses often have a small kitchen with limited storage and counter space.
A single bathroom: A one bedroom house typically has only one bathroom, which may be located near the bedroom or near the main living area.
Limited storage space: Tiny houses generally have limited space for storing clothes, household items, and other belongings, so it is important to be efficient and organized when furnishing and decorating.
Flexible design: These homes can be designed in a variety of styles and can be easily adapted to fit the changing needs of the occupants.