Benefits of a Small Contemporary House Design
The following are some of the benefits you will enjoy:
Effective Management of Space
As stated earlier, at a time like this space is limited. Therefore, managing spaces becomes inevitable. You would not want to have a space that is choked up without adequate space and air. This could be frustrating if you have kids without having enough space to play. Sure! It would not be that easy. However, with contemporary designs you can have this all planned out.
Your space can be transformed into a masterpiece with enough space on the inside and outside. Every detail of the building, including the corridors, hallways, kitchen, dining, and rooms are well- patterned. As a result, there is a balance between the available space and the size of the house. It also takes into consideration your privacy with other surrounding buildings. So, you have nothing to worry about. With contemporary designs, your space will be managed to the fullest.
Free flow of Natural Light
Apart from having enough space, you also enjoy free flow of natural light into your house. Imagine waking up to see the sun rays and its beauty radiate all over your room. It is a fascinating sight to behold. A small modern home has large and small glass windows which makes room for natural light to come in.
Most times, these windows do not only face the south, they can be on several sides of the room to allow more light to come into the room. This also goes a long way to maximize the use of natural light and minimize energy consumption. When you have bright natural light, there would be no need to put on artificial light. This way, you save energy cost without exposing your privacy.
Beauty
Having a contemporary house design offers luxury and beauty all together. Its features are usually unique, and eye-pleasing. Look around you, small contemporary buildings stand out.  The materials used in building have a combination of natural and modern designs. This creates a balance between your structure and design plan.
The aim of having a small house is to make a beautiful piece that will be comfortable and beautiful for you and your loved ones. With all the glass elements, unique rooflines, and other exterior fitting, sure!! Your home will have a beautiful look.
Customizable Plan
Do you have a dream home in mind? Here is your opportunity to get started with your dreams. There is no-one-for-all design when building small contemporary buildings. So, you are at liberty to customize it to your taste.   However, it must still adhere to the safety rules guiding the building of structures.
Additionally, you are free to add any feature you desire to your space. This could be a swimming pool or a small sports field. It all depends on your choice. Also, if you prefer having less space for the interior and more space for the exterior, it can be done. You just need to have a small modern home design in mind. Then, an architect can work on it to give you what you want.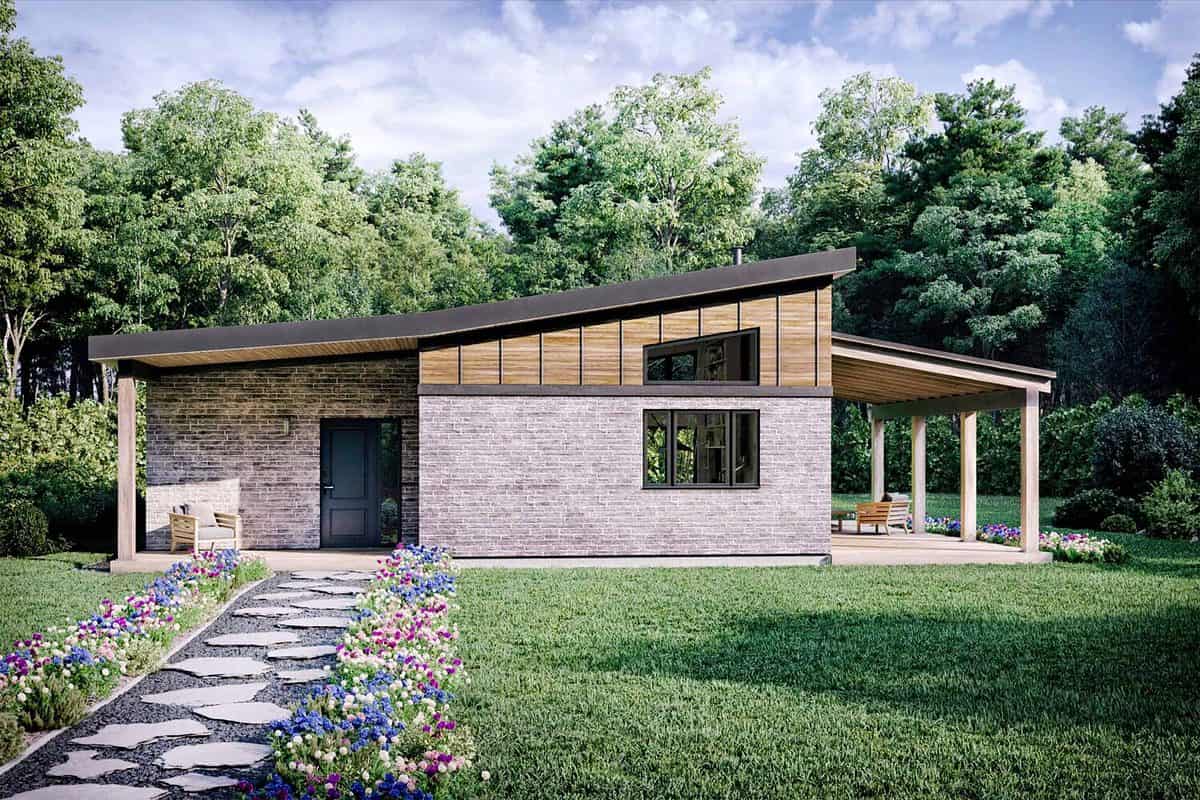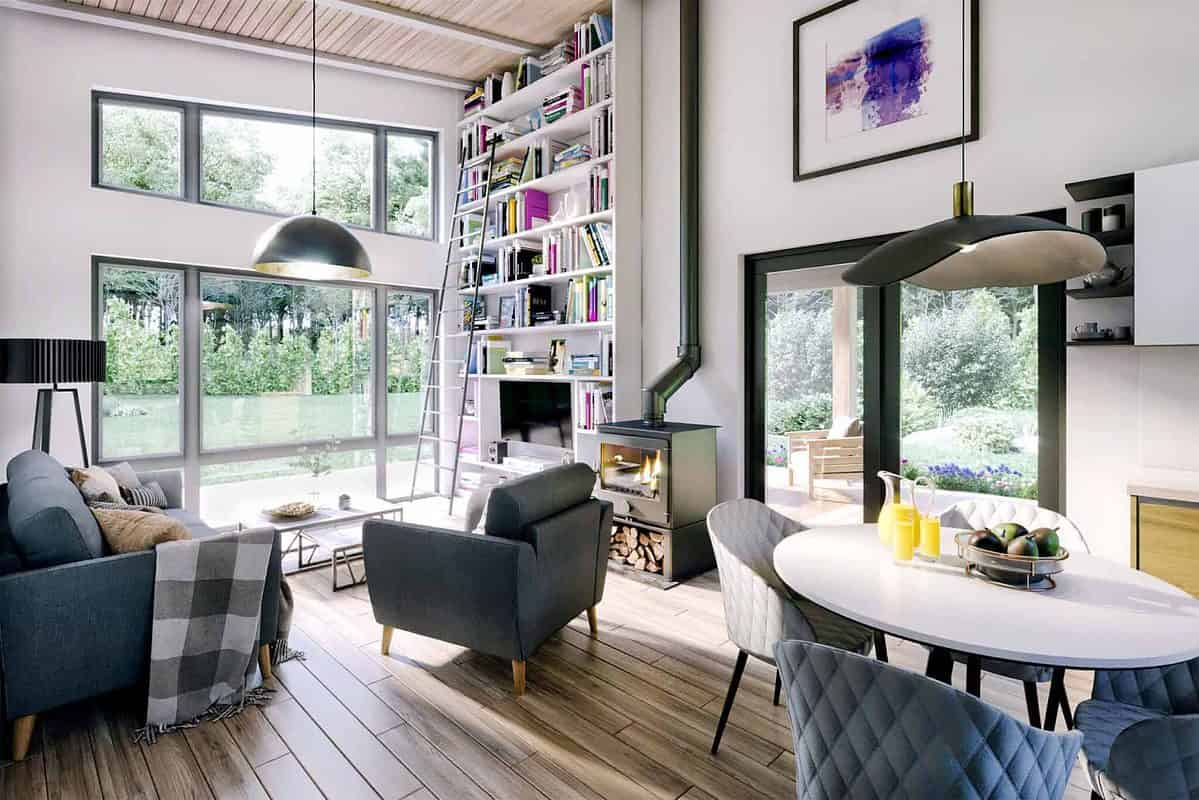 Eco-Friendly Structure
In the 21st century, a lot of efforts are being put in place to build an eco-friendly world. This emphasizes on the need to encourage practices and structures that will benefit the environment. Contemporary designs help to manage space and in turn reduce energy consumption. This also prevents waste of materials, promotes free air flow, and insulation.
Consequently, energy is maximized, helping you save cost. You can also make use of building materials that can be recycled.  This way, you are saving the planet and saving your money at same time.
Simplicity
Your home goes a long way to reveal your personality. More so, it reveals how organized you are. No doubt, having a small contemporary house shows that you love a classy and simple lifestyle coupled with a touch of modernity.
It also encourages more organization in the arrangement of furniture, gadgets, and other wares in the house. If things are not properly arranged, it would lead to clustering and impediment of free movement. So, you will need to dispose of things that are not in use to keep your home healthy and clean.
Cost Saving
When compared to owning a massive and gigantic building, a small one helps you save more. Right from the planning process to the building and maintenance cost, you do not have to spend much. There are lots of designs for you to choose from.
So, your budget does not matter, what matters is that you can always work with your budget; adding what you want and removing what you do not want. Additionally, you would not have to pay more for electrical bills, council rates, cooling/heating bills and repairs. This is quite interesting as you can spice up your living with the little you have.
Easier Care and Maintenance
You do not have to go through a fuss thinking of where and how to clean your home. A small space gives the liberty to move, replace, wash, tidy and clean surfaces easily and quickly. Simply put, it is easier to clean a house with 3 rooms than a house with 10 rooms.
Also, with a small contemporary house, there would be no need for too much furniture. This makes it easy to clean up surfaces and floors in no time.
Promotes Intimate Living
The closer the gap, the stronger the bond. This is majorly true about building family relationships. Living in a big mansion gives you more room to stay apart, however, with a small house, you can build a stronger intimate relationship with your family.
This experience gives room for you to talk more often, enjoy meals, relax and unite with your loved ones. This in turn creates a loving, warm, and inviting atmosphere at all times. More than the comfort, you enjoy a homely atmosphere when there is less empty space.
Easy Renovation
Are you thinking of renovating or refurbishing your space? This is very easy if you have a small house. It can be renovated into any design and size you want it. So, it does not matter if you want an entirely new building or you want to just add some features. A little space can easily be transformed with less expenses.
Also, with the growing trend in contemporary home designs, you can feel free at any time to renovate your home.