Building a custom home is both a fascinating and extremely challenging experience. Very few things in life can bring more happiness than coming up with your own house design and seeing the whole building process through. However, with so many details to think about when building a house, it is inevitable to make mistakes, especially if you are new to the industry and have no guidance. Here are some of the most common house planning issues and tips on how to avoid making them. These will come in handy, no matter if you are building a tiny home, a large modern house, or a holiday cabin.
Pay Attention to Space Planning
You must have a clear vision of what kind of house you need. Ideally, the house layout has to be both functional and comfortable. First of all, you have to decide on the size of the custom house and the number of rooms. Make sure to avoid stacking your house with non-utilized rooms, which become useless in the future. Also, try to design your rooms in a way that they would provide more than one function. For example, your office room can efficiently serve as a guest bedroom.
It is best to work with professional custom home designers who can help you realize what type of house suits you the best. Another option is to check different house plans online for new ideas and tips.
Bedroom Location Is Vital
Getting a good night's sleep is a necessity in such a fast-paced world that we live in. The master bedroom is the most private room, so it should always be the least noisy part of the house. Furthermore, try to avoid connecting bedrooms to the main living space.
Also, your bedroom is the place where you get the most rest, so take your time to come up with the most suitable bedroom design. Try using soft finish materials such as a carpet for the flooring and a calm color palette, which would create a relaxing room atmosphere.Â
Take Care of Lighting
You have to think about lighting in every room and corner of your custom home. Once you move in, it becomes highly complicated to readjust light fixtures or install new windows, so take care of it from the get-go. The glazing of a room should be equivalent to at least 15 percent of the floor space. To save on lighting costs, you might want to consider larger windows in the main house areas. This would also bring additional value if you are living in a scenic area.
Images: Unsplash
Plan the Location and Layout of the Kitchen
To create a more spacious house, you might want to consider merging your kitchen with the living room. It also provides more comfort to the cook who doesn't feel isolated. Moreover, make sure to place your kitchen close to the entrance and garage for a convenient grocery carriage. As most of the parties and gatherings end up in the kitchen and living room area, it is wise to situate it towards the backyard for more privacy.
When drafting kitchen plans, it is vital to place all the appliances in the right location, which follows the cooking sequence. This way, you will save a lot of time and optimize your experience in preparing food. If you don't feel confident with your own judgment, you can always consult with a kitchen interior designer.
Pick the Best Spot of the Porch
Design a house layout with a clear location for the porch or sundeck. Ideally, you want it to be accessible from the main living room and the kitchen. Also, any outdoor living space should always face the best scenic view. Nobody wants to look at the busy street when they have a mountain or forest behind a house.
Make sure to locate your porch or sundeck further away from your neighbors to ensure privacy for everyone.
Choose Reliable Home Builders
Trying to save money by hiring cheaper home builders might have disastrous results. You want to work with the best professionals who provides a warranty of their work, have excellent reviews online, and years of experience in building custom homes. Make sure to meet builders and check their previous work before signing a contract, so you know what to expect beforehand.
Sign Contracts
During the whole house building process, you have to work with many professional home builders. Most of the time, everything goes according to the plan, but in some cases, things might not work out the way everyone planned. In such cases, it is vital to have legal contracts that could help to solve any disputes. It is even better if you can notarize every contract to guarantee complete safety. Make sure you sign contract with each builder before their work start date.
Never Skip Inspections
When building a custom house, it is vital to set a healthy relationship between yourself and your home builders. You must trust your builders and their ability to make the best decisions. That said, you also have to thoroughly inspect all the work done after each construction stage to avoid any complications in the future. After the house is finished, hire a licensed third-party inspector to make a thorough review of the home to identify problem areas and potential flaws.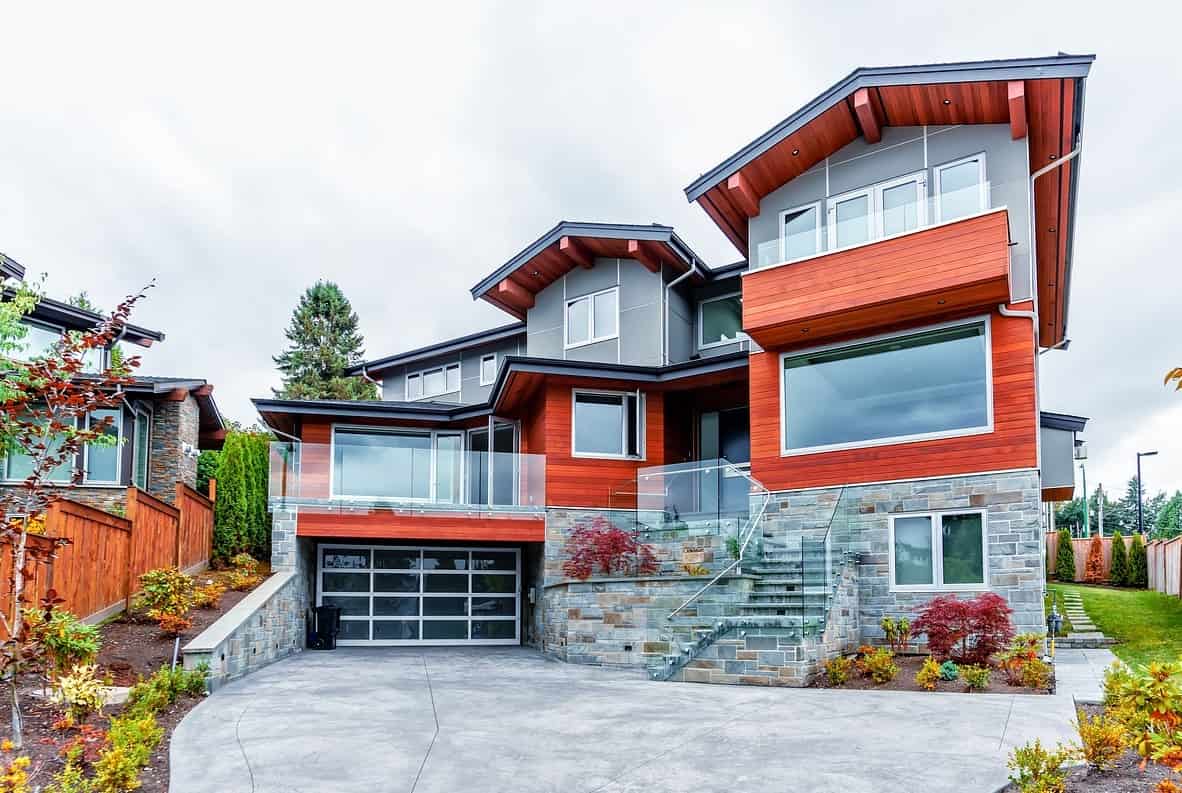 Image: Pixabay
Determine the Size of the Garage
Do not underestimate the importance of the garage in your house. Decide on the right garage location in relation to the rest of the house. This will shape your house front elevation and direction of the driveway. When building a custom house, most people choose to have space for at least two cars with the ability to expand in the future in case of family growth. You have to evaluate the space needed to store bikes, boats, Amazon boxes or any other items, as well.Â
If you can afford to extend your garage even further, you might want to implement a separate storage room with shelves and a workshop.
Take Care of the Safety
Don't hesitate to talk to your neighbors and find out about the safety situation in the area. After you do that, adjust your house plans accordingly, and make sure to get rid of any potential safety flaws. Also, do not try to save money on installing the cheapest alarm system because it might turn out to be costly in the future.
Adjust to Your Lifestyle
Some things sound wonderful in theory but might not be ideal for your lifestyle. A lot of experts will offer different solutions on how to plan and design your dream house, but in the end, it all comes down to what you really want. If you wish to have an ample outdoor living space instead of a spacious living room, go for it. After all, it is you who will live in the house, so your house plan designer can only make suggestions.
Moreover, make sure to take into consideration your future plans when building a house. Do you really need that extra room for the gym? Will there be enough bedrooms once your family grows? If you are not certain if you need something now, make sure to build your own house in a way that leaves an opportunity to add an extension later.
Stay Flexible Throughout the Process
Building your own house is a time and energy-consuming process, so you have to have a detailed plan and timeline before you start. Following that plan is a vital piece of the home-building puzzle, and yet, you have to be prepared to face unpredictable issues along the way. To solve those issues, you must remain adaptive to the situation and have extra resources.