When looking for the house to build, you must consider many things, from proper budgeting to different interior designs and house siding types. Talking about budget, you should never try to save money on foundation as future cracks could be cost-effective. Today, modern house designs are usually made on slab and crawl space foundations. Both types have their pros and cons. You should consider all the factors and details when building your custom home, no matter if it is a small 1000 square foot house or a luxurious 8000 square foot mansion.
Durability
Both crawl and slab foundations are very durable and should last for more than 50 years if your home builders and designers know what they are doing.
Storage Space
A crawl space foundation is perfect for you if you are looking for extra storage space underneath the house. It's the place where you can install your plumbing, HVAC units and store various water-proof household items. The same cannot be done with a slab foundation. If you are building a house with an attic, it shouldn't be hard to solve this problem. However, if you are looking at tiny house plans on a slab foundation, think about where will you store all the items and HVAC furnace.
There is also another option for those who want to have more storage space, but don't want to base their house on a crawl foundation. A basement foundation is a trendy choice among the custom home builders as it provides additional space underneath the ground. On top of that, basement foundation is very durable and should withstand all the elements.
Energy Efficiency
When exploring 2500 sq ft house plans, you should think about your utility bills, as well. A slab foundation is energy efficient as it keeps the air within the house and serves as a natural insulator. On the other hand, a crawl space foundation allows the air to flow underneath the house, increasing your heating bill during the winter season exponentially.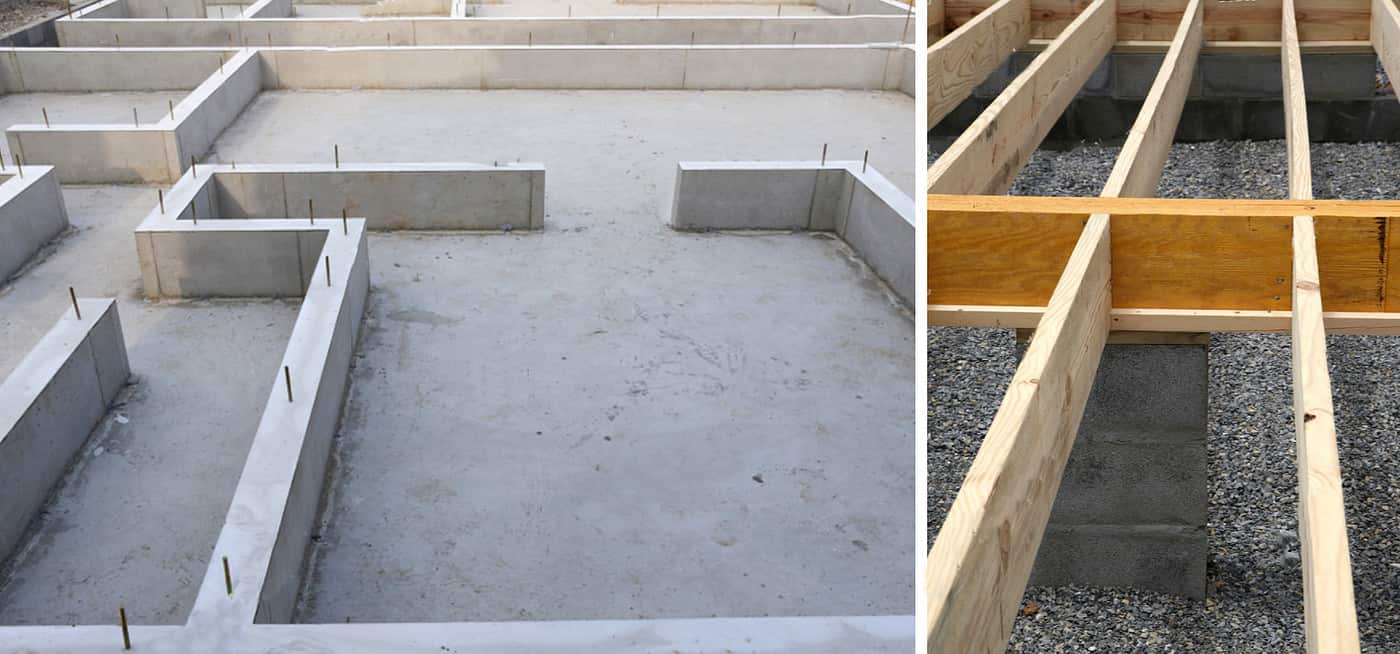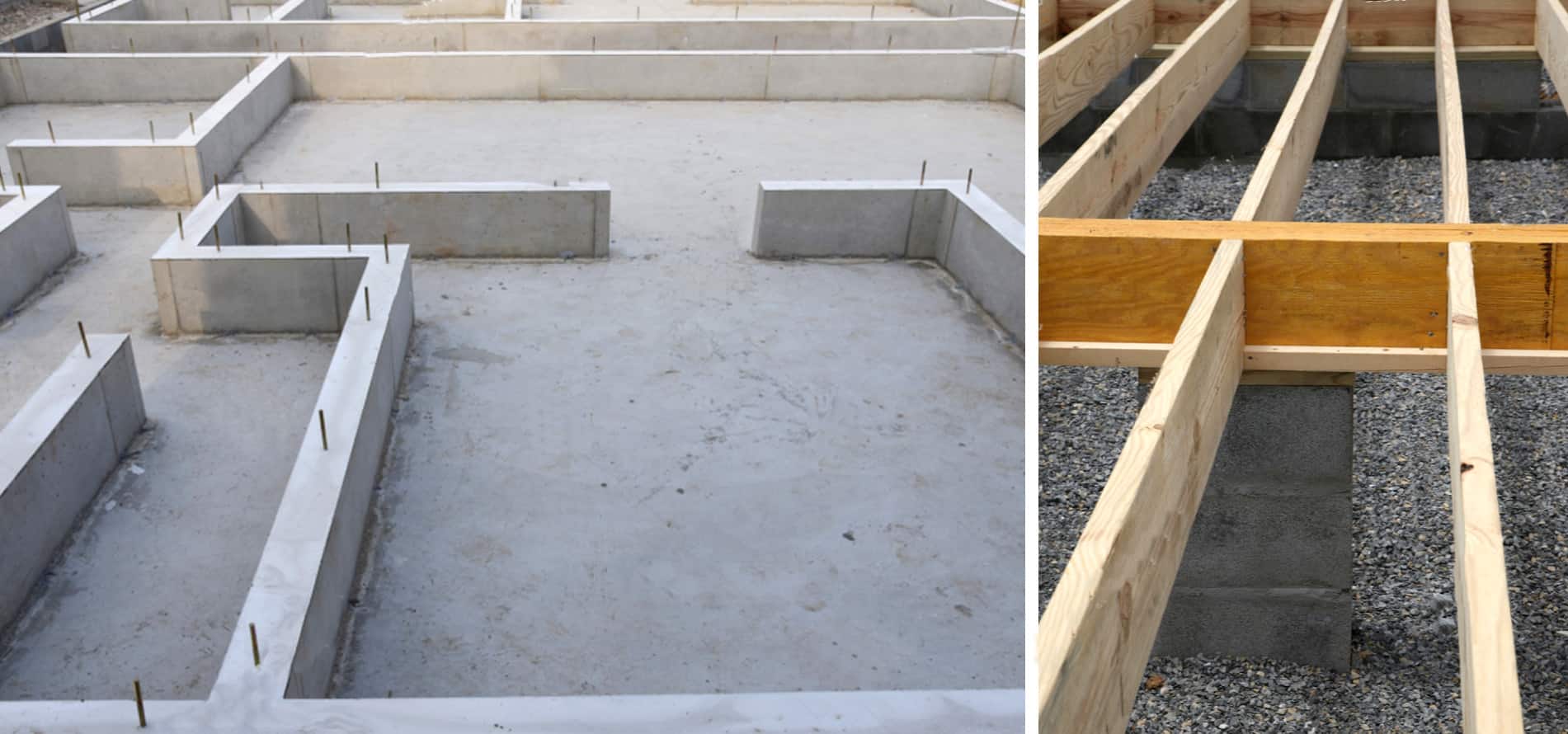 Images: Shutterstock
Construction, Costs, and Repair
Once you finalize your house floor plan with your home designer, it is time to start building. It is not always as easy as it seems – a crawl space foundation at the average 2500 sq ft house will cost you around $17,500 or $7 per square foot. With many materials to choose from (bricks, wood, concrete, etc.), you should easily find the perfect solution for your house. However, make sure to evaluate all the variables when planning the budget as the labor cost of a crawl space foundation can range, especially if you are living in an area where it is hard to do the grading. Furthermore, you must not be in a hurry as even professional custom home builders need some time to build a durable crawl foundation.
A slab foundation can take less time and cost less money to build. Normally, you can expect to pay $4-$6 for a slab foundation, making it a bit cheaper compared to crawl space foundation. If your budget is tight, that might provide you some extra money to invest in other parts of your house. On top of that, if you are tired of scrolling through all the modern house plans and want to move into your new house as fast as possible, a slab foundation is relatively fast to build.
However, consider one more thing when searching through house designs on a slab foundation – they are quite problematic to repair. For example, your plumbing system will be hidden underneath the concrete, so in cases of leakage, you will need to jackhammer the slab and go through a lot of stress and expenses to fix everything. In comparison, on a crawl space foundation, all the HVAC, plumbing, and wiring systems are extremely easy to access as they are usually placed in the crawl space underneath the house.
Consider the Climate and Geographical Zone
The first thing you must take into consideration when choosing house design plans is the place where you are building it and the climate all year round. Any professional home designer will advise choosing the slab foundation for your custom home plan if you are living in a wet (but flood-proof) climate zone. This is for avoiding humidity, mold, and moisture. A well-built slab foundation protects the house from the rainwater, whereas, a crawl space foundation allows the rain to run underneath your house, inviting mold to visit you. So, if the rain filters out your sunny days, you should also filter out crawl space foundations when looking for the house plans online.
However, everything changes if you are living in a dry climate area. Professionals suggest sticking to crawl space foundation in such places as you don't have to worry about humidity and mold. Also, if you envision your modern house on a sloped ground, a crawl foundation can help you to adjust and level the house.
Of course, there are a lot of areas where the climate is constantly changing, showcasing pros and cons of both foundations. In such cases without a clear choice, we recommend consulting local home builders that have experience working in your area and can help you to find the best solutions.
So, there are a lot of things to consider when choosing the perfect foundation for your dream house. You must take this task seriously as it will influence your comfort of living for years to come. No matter if you are building a modern cabin, a luxurious house, or a tiny holiday home, always try to consult professional house designers and stay flexible to various solutions.